Online Art Course Testimonials and Letters
This section is dedicated to students who have very kindly written testimonials about the college, their course, their tutor and we are proud to present them here, some along with a sample of the students work. If you are a happy student and would like to send us a similar testimonial, please don't hesitate to contact us at any time.
---
Dear London Art College,
I finished the Pet Portrait Diploma a little while ago and thought I would let you know how I am doing.
The course was definitely one of the most satisfying things I have done in my life. My confidence as an artist has grown hugely since the course began. I remember worrying that I didn't have an artistic 'style' and being permanently daunted by other people's work.
My new year's resolution was to get set up to start selling commissioned pet portraits. I had posters and business cards printed which I have been leaving at shops, vets and boarding kennels. I have a busy life with work and kids, but every week I try to do at least one thing that gets my art seen by more people.
I'm attaching a commission I have just finished - her name is Ella and she is done with water-soluble oils on linen. I am having discussions about three further commissions at the moment - it's early days for my little enterprise but so exciting! Painting animals is definitely my Happy Place :)
I can't thank the London Art College enough - it has been THE best start for me!!
Warm regards
Alison Croft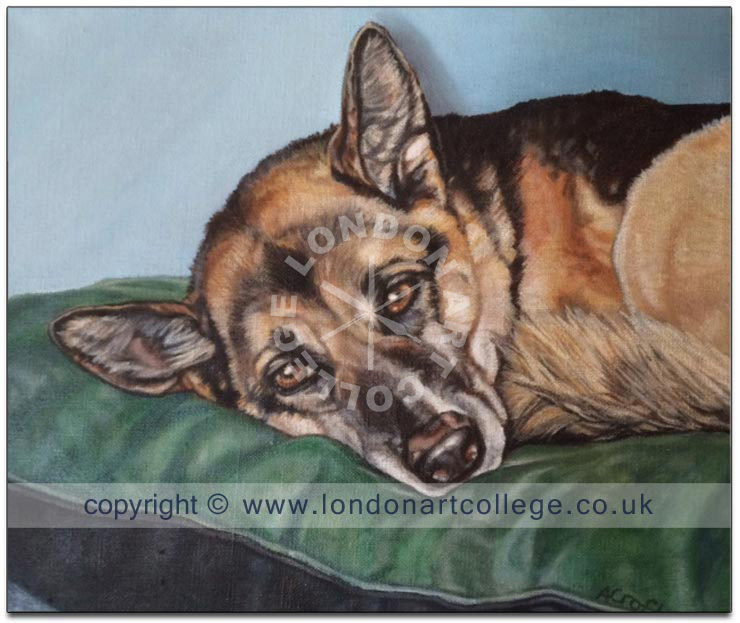 ---
Stu Roberts and the LAC
I have always been interested in Art, but I was more of an 'armchair' historian. I could chat about the great works, but after a few minutes, my knowledge would soon dry up. So, determined to do something about it, I enrolled with the L.A.C. Eagerly, I awaited my course folder and assignments. I was impressed with the package and with the contact I had with my tutor Stu Roberts. Any questions or concerns were dealt with quickly, with no fuss, or bother. Instantly, my learning curve took off! I found myself enjoying more and more the Art world and its history.
My assignments covered amazing paintings and sculptures, which in turn gave insights into history and the lives of artists. I was so proud to complete this course that I signed up for the second as soon as I could. These assignments dealt with Modern Art, up to the present day and this course again soon proved an eye opener, which prompted visits to galleries and museums.
I cannot commend enough the feedback and encouragement I received from Stu. His help and other suggestions make you want to look further and deeper into the subject. Now, once finished, I can enjoy talking about Art and artists with new found knowledge and insight and feel grateful to be able to pass this knowledge on.
Jim Hamilton
Understanding 20th and 21st Century Art
---
My name is Celia Carlile and I've just been invited to write something here about my new book The Christmas Song. In 2010 after some unsuccessful attempts at writing and illustrating children's picture books I went online to find a course to help me. The illustration course with the London Art College seemed perfect and I quickly enrolled. It was one of my best decisions ever.
Maggy Roberts was my tutor and I learned an enormous amount. During my course I entered one of the competitions posted on the LAC site and was rummer up which resulted in me illustrating Wendy Hesketh's book The Slimy Slug. I continued my course and received my diploma in illustration with merit in 2011. I went on to do the advanced course where I worked on a book with Maggy's advice, suggestions and recommendations. My husband Orison , wrote the story. That book has now been published and is for sale on Amazon.
It's a very sweet story about a little girl, Emily, who is so excited about Christmas that she just can't sleep. Santa comes when children are asleep so he and Rudolf must wait outside. Through the window Father Christmas can see Emily singing all her favourite Christmas songs so he decides to write a special song for her. The words, piano music and guitar chords are included at the back of the book and if you go to the link given you can actually hear Santa singing for Emily online.
I've dedicated the book to Maggy Roberts to say "Thank You" for helping me to realise my dream. The Christmas Song by Celia and Orison Carlile would make a lovely gift for children between the ages of two and five. My husband has written another story which I'm currently working on and hope to see in print before the end of 2014.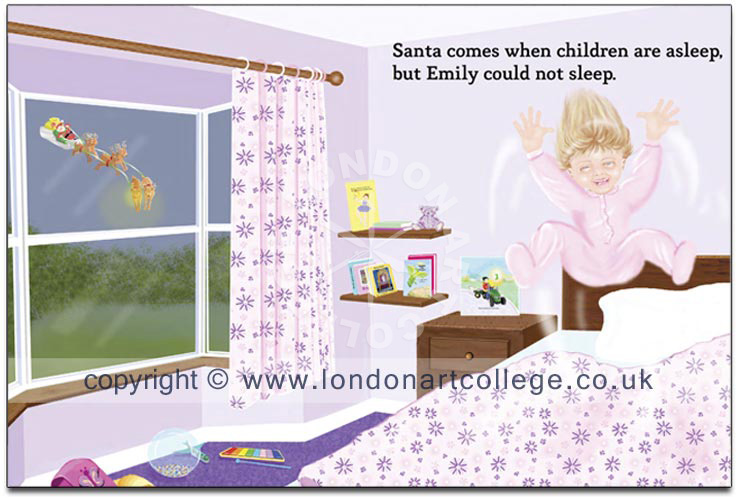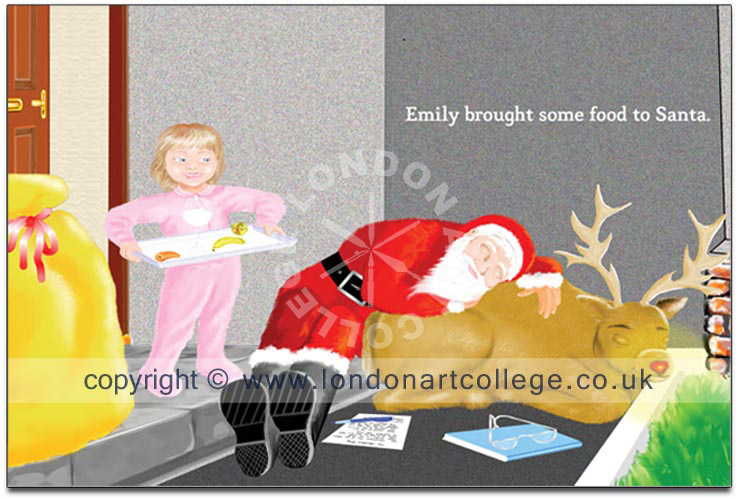 ---
My name is Jenny Drew and I always loved drawing and doodling as a child. I bought books about how to be a cartoonist and would sit for hours copying the pictures. Children at school would ask me to draw lizards for their science projects and I made a pop up cartoon book of the Three Little Pigs for a project and got an A*. But it was a difficult time for me and somewhere along the way I forgot about drawing. I've spent the last 10 years being a youth worker, which I love, but I always felt like I missed out by not taking art any further. Then somebody suggested I mix the two and do an art therapy diploma. Because art therapy is about expression rather than technical ability I felt able to start drawing again. People liked my cartoony drawings about therapy and my childhood worries and encouraged me to start making cartoons again. I looked into various courses but none of them seemed like they would be affordable or fit around my job. I took up an evening course at a local college. That didn't work out because I was always tired after work and I didn't enjoy sitting around a cold classroom with only 5-10 minutes of one-to-one tutor time. So I dropped out of that and looked up online courses - which is when I found London Art College. I googled the tutor of the cartooning diploma - John Byrne - and instantly recognised his drawings as the cartoons I used to copy as a child, so I signed up.
I didn't have much confidence as I hadn't drawn anything for years and I obsessed about not being good enough. When I first filled in the 'what do you want from this course?' introductory sheet I said I had a vague hope of one day writing a graphic novel but that seemed completely unattainable at the time. But I found that the course was really good at setting tasks suitable for any level and my confidence grew each time I got feedback and advice from John. He has a really important quality in his tutoring of being able to find out what my goals are, and giving specific relevant direction whilst being really positive and encouraging.
During the course I set up a website - www.jennydrewsomething.com
Loads more has happened since then - John put me in touch with someone who is looking to get a book of his illustrated as a comic. I have been commissioned by my local council to run comic workshops with groups of teenagers and make a set of comics to be used in schools. I've been given a regular cartoon feature in a local magazine. There are also several other commissions in the pipeline. I am really happy and surprised by it all but it's made the graphic novel ambition seem that bit more possible.
I've now signed up to the digital illustration course and expect that I will sign up to another one after that because I think they have so much value in that it has actually led to me being able to do this as work, rather than just a secret hobby.
Thanks to London Art College especially my tutor :-)
Jenny Drew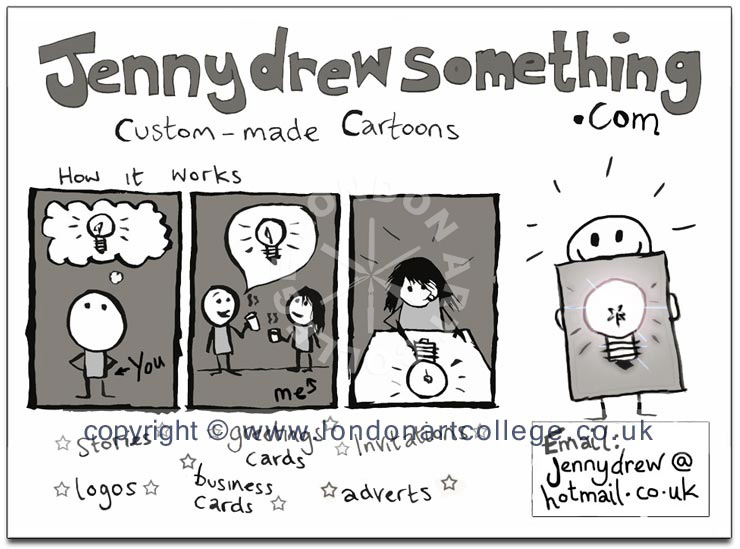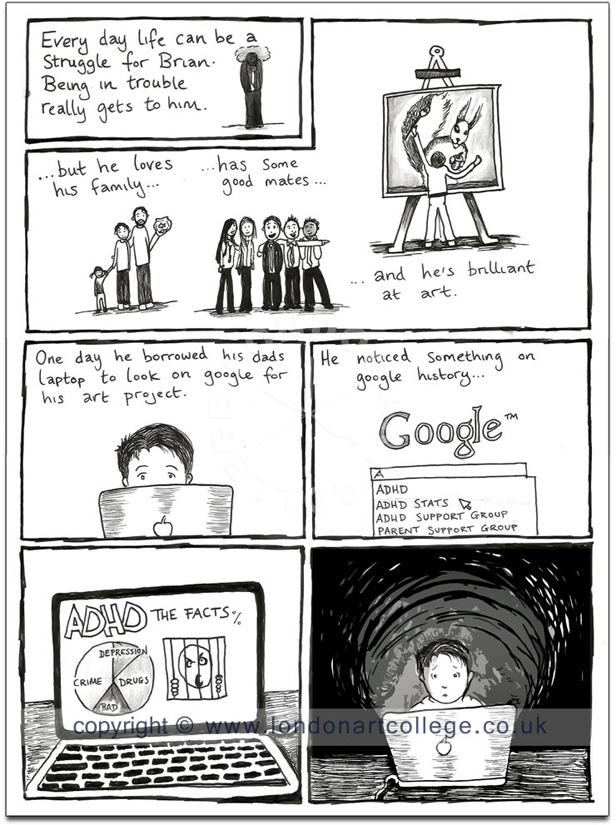 ---
Christa Logan emailed the college to let us know o how she was getting on after completing the pet portraits diploma. Visit Christas website here - www.craftychris.webs.com/
Christas Logan completed the pet portraits course in 2003. Once her course was complete she was asked to have a solo exhibition in the gallery at Harestanes for a few weeks in August of that year. Harestanes is a visitors centre in the countryside just 10mins from Jedburgh, a very popular place with locals and tourist. Its open from April to October each year. Soon other galleries and shops were asking her to exhibit and sell her work locally. Among them were Eyemouth Gallery, Glen Douglas art exhibition and from here she has her originals cards and prints in many of the shops and cafes in her local town.
Not only has Christa been hard at work producing artwork for the galleries and exhibitions she also takes commissions for portraits of people and animals. Once the exhibitions of the summer were coming to a close Christa was approached at the exhibition and was asked to teach a group of budding artists. Christa was very hesitant at first but with some encouragement took the classes between September and December 2005. The classes were such a success she has been asked to continue indefinitely! Christa demonstrating some watercolour techniques to her students.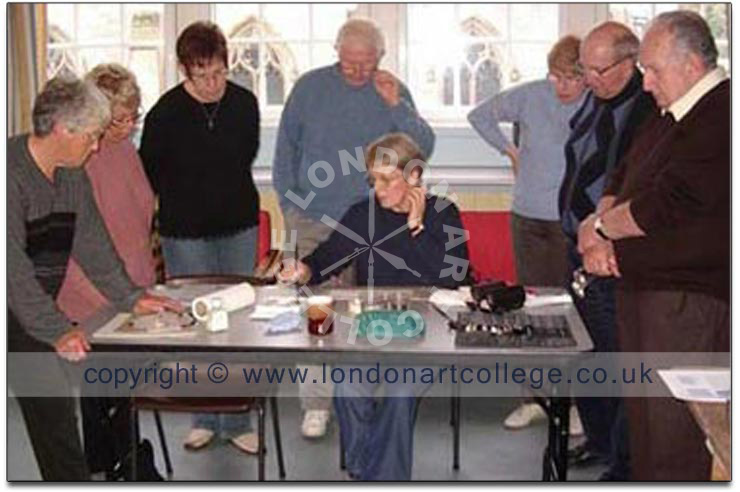 ---