About the London Art College
A very warm welcome. I hope you are finding our website informative and helpful.
When I became Principal in 2023, it was following the impact of covid and the many challenges faced by distance learning as a result.
While our courses receive regular updates to stay current, we are equally mindful of our rich heritage. For the past ninety years, our college has been dedicated to nurturing aspiring artists and illustrators. Pioneering distance learning globally in 1931, we now boast a diverse student body from around the world.
What distinguishes us from other institutions is our devoted team of tutors, all accomplished artists keen on elevating your artistic capabilities. Whether you are a novice or an experienced artist, their commitment lies in furnishing you with unparalleled guidance and support on your artistic journey. Their mission is to offer excellent advice that fosters the refinement of your artistic skills, ensuring your continuous evolution as an artist. Explore for yourself — the majority of the artwork featured on this website has been created by our students while enrolled in our courses, with many pieces produced within the past twelve months.
While we believe art should be enjoyable, we also recognize the transformative power of good training in turning individuals into better artists. Our commitment remains anchored in the principles set forth at our establishment in 1931.
For those interested in delving into the history of the London Art College during its 'Early Years,' including insights into its founding, please continue reading below.
Alison Douglas-Jones - Principal of the London Art College



---
London Art College - The Early Years
The London Art College was founded in 1931 by a group of working artists and art editors who believed that a new kind of art school was needed. Foremost amongst them and indeed the originator of the concept was A.W.Browne F.Z.S one of the all time great artists of Fleet Street, then the home of the British newspaper industry.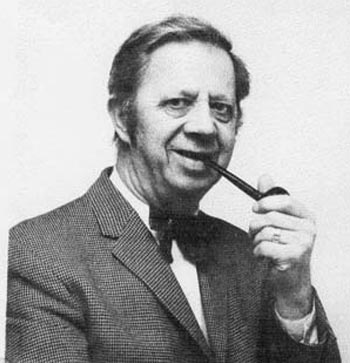 Bill Browne (A.W.Browne) Founder


The London Art College was to be unlike any other art college. It would be practical rather than academic. It would be completely comprehensive in the areas where an artist could earn a living.
It would provide outstanding tuition by artists who were currently selling their work, rather than by ordinary academics. To make its services available to aspiring artists wherever they lived, it would teach its students by Distance Learning in the comfort and convenience of their own homes.
To this great concept all the founding artists and art editors contributed. Everything they had learned by being practicing artists was incorporated and more has been steadily added as courses are regularly renewed and revised over the passing years.

Bill Browne, as everyone knew him, won national fame. His first books were published in the 1920's and he continued to publish for another thirty years.
A guide for the young artist by A.W. Browne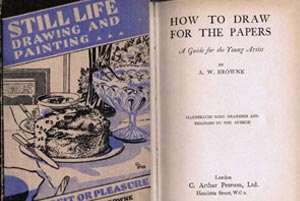 Apart from his best selling books on painting and drawing, for many years he contributed a daily cartoon to one of the leading newspapers.
Bill was a regular contributor to the Daily Mirror, Daily Express, Daily Mail, News of the World, Sunday People and was consistently featured in Punch, Tatler and other leading magazines of the day.
He was an Official War Artist in the '39-'45 war.
Bill was never too busy or too important to help younger colleagues. Success had not come easily to him in the early years of his career. He realised that artistic talent was not enough.
To be successful, an artist needed the knowledge of how art could be used to develop an income. Artists needed to understand particular markets and they needed help to bring out their talent and to adapt their natural flair to meet market demand.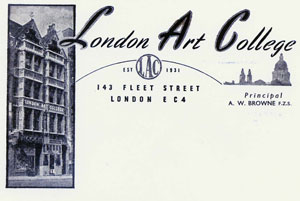 Throughout the ages young artists had studied in the studios of the great artists of the day.
Bill Browne and his friends and colleagues at the London Art College wanted the college to carry on this tradition.
It was to be the place that aspiring artists of all ages could get the tuition, help and encouragement they needed to succeed in the profession he loved.
Today the London Art College acknowledges the debt we owe to Bill Browne and the other founding artists and strives to continue in the spirit with which they started the college, nearly a century ago.
Our courses are new, developed for the twenty first century, but we share with the founders the genuine wish to help all our students, as individuals, to achieve their personal goals - to help them become successful, fulfilled artists.