Course Prices
Instalments (UK / NI Only)
£295.00 in 4 instalments at £73.75 each
Oil Painting Online Art Course
Tutored by Alan Dedman BA, RAS, PGCE or Heather Jolliffe
The Oil Painting Course is a Certificate Course
The expected duration of this course is approximately 6 months although the college allows students up to two years to complete their studies. This course is suitable for all students.
Explore the subtle art of painting with oils with the Oils Certificate Course from London Art College. Whether you're improving your technique or starting from scratch with oils, this 6 month course will help you paint with confidence.
With its bright, deep colours, texture and endless subtlety, many artists consider oils the king of paints - but painting in oils can be a tricky skill to grasp. This detailed and immersive written course will help you to grasp the basics and improve your oil painting skills.
Learn how to manipulate your paints to stunning effect, get hints and tips on working and re-working your paintings as they dry, and discover painting techniques that will add a stunning depth, light and character to your work.
Course subjects include:
Using a drying media
Painting a simple picture

Transferring designs

Understanding colour

Handling colour

Drawing skills

Using glazes

Working with an easel
If you find the idea of using oils a little daunting, the course tutor is here to help. They are an experienced users of oils and has taught them for many years. They will be able to help you make the most of this fascinating and versatile medium.
You can join your tutor on a journey through basic and advanced techniques. You'll also have access to encouragement, support and feedback as you work at your own pace from home. So start exploring oils today.
The course is suitable for both traditional oils and water-soluble oils.
Students are able to upload their artwork to the 'The Art Room' on our website. Each student is given a unique username and password on enrolment for their own private section in The Art Room.
Students can upload their artwork for the tutor to collect and critique. The tutor will then upload feedback for the student to download. If you do not have facilities to upload your artwork, you can mail your artwork to the tutors centre and receive your artwork back with your critique. It is essential you label all packages/artwork with your student number.

All our courses are written to be complete in themselves. However we realise that students may appreciate being able to get clarification about various things as they work through their programme as well wanting reassurance that they are putting techniques into practice effectively. The tutors provide the technical support to deal with relevant queries.
Most courses have their own dedicated Tutor. The tutor keeps the course up to date and relevant to today's students. They are available to the individual student for advice and encouragement. Each course has regular exercises and assignments that are constructed in such a way as to give the student the opportunity to practice the techniques learnt on the course and to test themselves as they go along. The student is encouraged to submit the assignment work to the college for the tutor to critique.
The student's work will be returned together with the tutor's personal critique. On many courses the assignment work may be suitable for inclusion in a student's Portfolio of Work that could be very useful later. The college will use the assignments submitted as the basis for any award of a letter, certificate or diploma.

Media: Equipment used
Using a drying media
Painting a simple picture

Transferring designs
Understanding colour
Drawing skills
Using glazes
Working with an easel
Click the download button below to view a pdf sample course page which will open in a new tab. Alternatively right click and save the file. Please be patient for it to load.
Below are a few images from the course itself illustrated by tutor and artist Alan Dedman.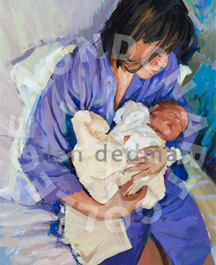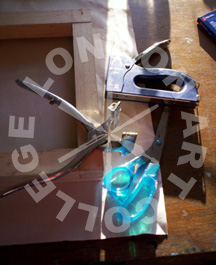 I absolutely happy and satisfied with LAC C5 course and learning format in general - very friendly, clear, understandable, experienced and helpful tutor, e-tools are working pretty well etc. To extend this pleasant experience with LAC I have already registered to study Watercolor (D8).
I really enjoyed this course and looking to do another one!
I wish to thank and commend Alan Dedman for his expert guidance and advice through the Oil Painting course. I now feel confident to complete paintings independently.
The course has been very useful for me and it has improved my way of working as an artist.