Art Competition 2012 Winners
We are pleased to announce this years winner and runner up for our 2012 London Art College Art competition. All of the tutors and admin staff who attended this years annual conference had the difficult task of choosing a winner and runner up out of the finalists that had been voted for and selected by all tutors a week prior to the conference. All of the pieces of artwork were viewed on a giant projector and discussed during the meeting.
The voting was very close and however much we would like every student to win, the winner was Emma Allans Row, Row, Row your boat pictured below. I have added a full version of the illustration along with a close up of the left and right side. What an amazing illustration it is, there are so many things going on its just a joy to look at, technically well painted and the creativity in this piece is just wonderful. We would like to congratulate Emma on a fantastic piece of artwork
Our runner up was Judy Elizabeth Wilson with her superbly painted Tree of Life. If you study the image below you can see the painting in its exquisite detail. The thought that went into this piece, the designing, composition etc is excellent, the intricate details of the animals - just superb.
So there we have it for another year. The response to this years competition was overwhelming, we would officially like to thank all of our students who entered. We would also like to thank Emma and Judy for writing about their paintings and their experiences on the London Art college courses, scroll down to read their stories!
Winner 2012 Competition Emma Allen - Row, row, row your boat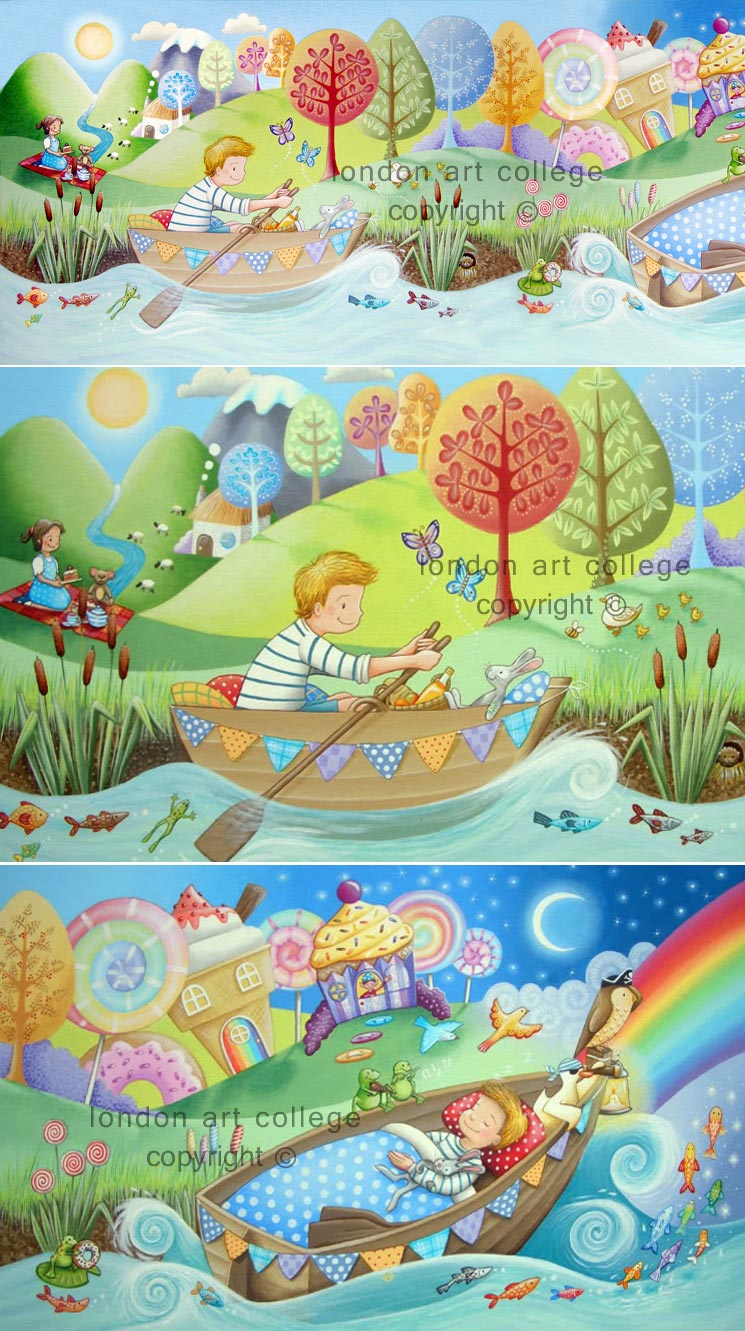 Hello!

I received a very pleasant and astonishing email this morning to say that I had won the 2012 London Art Competition - I still can't quite believe it. I was asked to write a small piece about myself and the painting Row Row Row Your Boat.
This painting is acrylic on card, painted with a very tiny brush, and it was a joy to create. It was the first brief on the Children's Book Illustration course and it gave my imagination room to breathe. I wanted to make it as magical and packed full of fun little details as possible; my aim was to make it as appealing as possible to a young audience, full of colour and activity. I'm especially fond of using soft pastel type colours in as many colours of the rainbow as I can squeeze in, which hopefully comes across in the picture, and I love nothing more than creating funny little characters to make an illustration come to life. I also enjoy including patterns where I can, in this case on the trees and bunting etc. I remember vividly how it felt to be a child so I try and put myself in that mindset when I'm deciding what to draw.

I had lost my way a little with painting over the past few years, and this course has really helped me to find my direction and focus. Illustration had always been my chosen path since I was at school, and now I finally feel that I am heading in the right direction, thanks to the guidance of my tutor Maggy Roberts, and also the other students on the college forum who have been brilliant with their advice and support. The Children's Book Illustration course has helped me to rediscover a really important part of my life and has given me the confidence to change my future.

Emma Allen
Runner Up 2012 Competition Judy Elizabeth Wilson - Tree of Life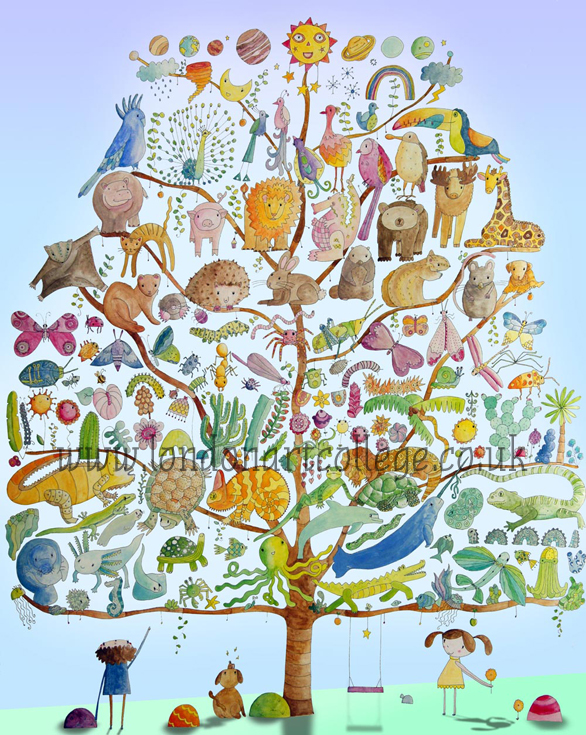 Hello, my name is Judy Elizabeth. I am very honoured to have received 2nd place in the LAC Competition 2012.
My hometown is in Suffolk, and I am currently living abroad, which is having a fantastic influence on my thoughts and ideas like many artists before me. I am studying on the Children´s Book Illustration course and I am so happy I joined the LAC.

When I began the course back in January, I started drawing again, slowly. I wanted to challenge myself to work consistently, so I planned some exercises to get drawing almost everyday. As I adore wildlife and animals I decided to draw them in an organized way which had a start and finish,. The challenge was to draw animals for every letter of the alphabet, I called it the ´animal alphabet ´and I posted the results on the student forum. I would like to say thank you to Melanie and the students who encouraged me at this time. It was in these first drawings my style begin to emerge.

From there it the idea of the Tree of life came from subjects and books I am interested in, history, mythology, the idea of gods, heroes and where we fit in as humans. What is it that makes us human? What do we have as humans?
The title ´Tree of Life´ is a primordial idea which I think we can all relate to. We all observe nature and are subject to the elements, we all observe each other.

My intention with this piece was to introduce a complex idea to children, simply. I wanted the characters to be happy and the atmosphere light, the story needed to be wordless so that a child could enter their own world for a moment, to observe the image and come to their own conclusion. I hope the child would enjoy discovering new animals, choose their favourites and maybe enter into a discussion with their brothers and sisters, mums and dads, teachers and school friends, ultimately to think, to question and to awaken curiosity.

I really enjoyed investigating the life forms in the picture. On the lower part of the tree we have the sea creatures and river animals then the amphibians, next the plant life, the bugs and insects, the small mammals, large mammals, birds, the elements, the planets of our solar system including the sun at the top of the tree and a few stars to suggest outer space. The boy and girl represent mankind and independently the boy represents curiosity and the girl, love. The little barking dog represents energy and also I think mankind has come along way with the help of our canine friends so he had to be included. There are also a couple of mythological creatures to add a little mystery.

When I found out I was a finalist I was ecstatic, really pleased with my months effort in this piece. It showed me if you carry an idea through to the end to the best of your ability, results come. When I received my e-mail from Principal Fisher and the lovely tutors to congratulate me, well lets say I couldn´t sleep all night for excitement and disbelief. I would like to thank Principal Fisher and all the tutors, especially Maggy and the administrators at LAC for believing in my work and guiding me. And a very big thank you to all the lovely students I have spoken with on the college forum, our interaction is brilliant and you have all helped me in your own unique way.

Thank you.

Judy. x