Art Competition 2014 Winners
Welcome to the winner and runner up page for our 2014 London Art College Art competition. We again had a really high standard and another a record number of entries which we were all delighted with. All of the tutors and admin staff who attended this years annual conference had the difficult task of choosing a winner and runner up out of the finalists that had been voted for and selected by all tutors a week prior to the conference. All of the pieces of artwork were viewed on a giant projector and discussed in depth during the meeting.
The voting was very close and however much we would like every student to win, the winner was Irina Viatkina, with her watercolour painting 'Orchid Passion' pictured below. We would officially like to congratulate Irina on her amazing piece of artwork. Irina has very kindly written a piece about herself and her work below, we hope you enjoy reading it.
Our runner up is Jonathon Cooper with his stunning watercolour illustration of 'The Reading Cow'. Jonathon has very kindly written a piece about his illustration below, we hope that you enjoy viewing the Reading Cow at such a wonderfully high resolution, we all think its absolutely superb! .
So there we have it for another year. The response to this years competition was overwhelming, we would officially like to thank all of our students who entered. We are looking forward to next years completion already!
Winner 2014 Competition - Irina Viatkina - Orchid Passion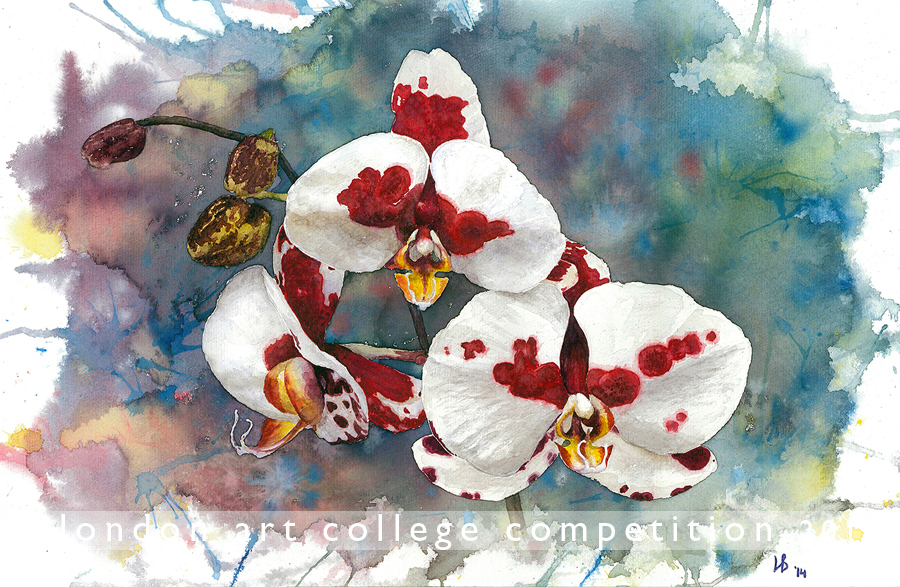 After receiving a great news from Mr. Fisher I'm writing here a bit of my competition piece and myself. First of all I would like to thank LAC for such a great opportunity. I think that it's very important for us (students) to participate in such competitions. For me it was also a big honor to compete among so many great artworks.
My name is Irina Viatkina and I live on Crete, Greece. I grew up in a small town next to St.Petersburg, Russia. As I was a child I study art at local Art School for children which I successful finished at my 15. I didn't continue my further art education because Economical Schools were more in fashion at that time, but I kept art for my soul as a hobby. Nowdays at the age of 35 I can clearly see that Art is my life and I can't live without it. That is why I'm a student again at the London Art College in Illustrating Children's Books Diploma.
The idea to draw orchids came to me this year. I was inspired by some amazing watercolors of artists from China. In my work I decided to combine somehow East and West. It was kind of small experiment. I used only watercolors on 300 gm rough Hahnemuhle Britannia watercolor paper. First came the background with wet-in-wet technique, then flowers followed but with more accurate brushwork. Because I love flowers and especially orchids, my goal in this project was to bring alive this exotic flower spirit which is in the same time tender but bright and wild. It took me about 40 hours to complete and as the final touch came the title - Orchid Passion.
As for my future artwork plans - children's books world is really fascinating me. The idea to communicate with new generation and to pass knowledge through books is amazing. That is why to become an illustrator and create some great children's books will be my best future plans!
Very best wishes
Irina Viatkina
Runner Up 2014 Competition - Jonathon Cooper - The Reading Cow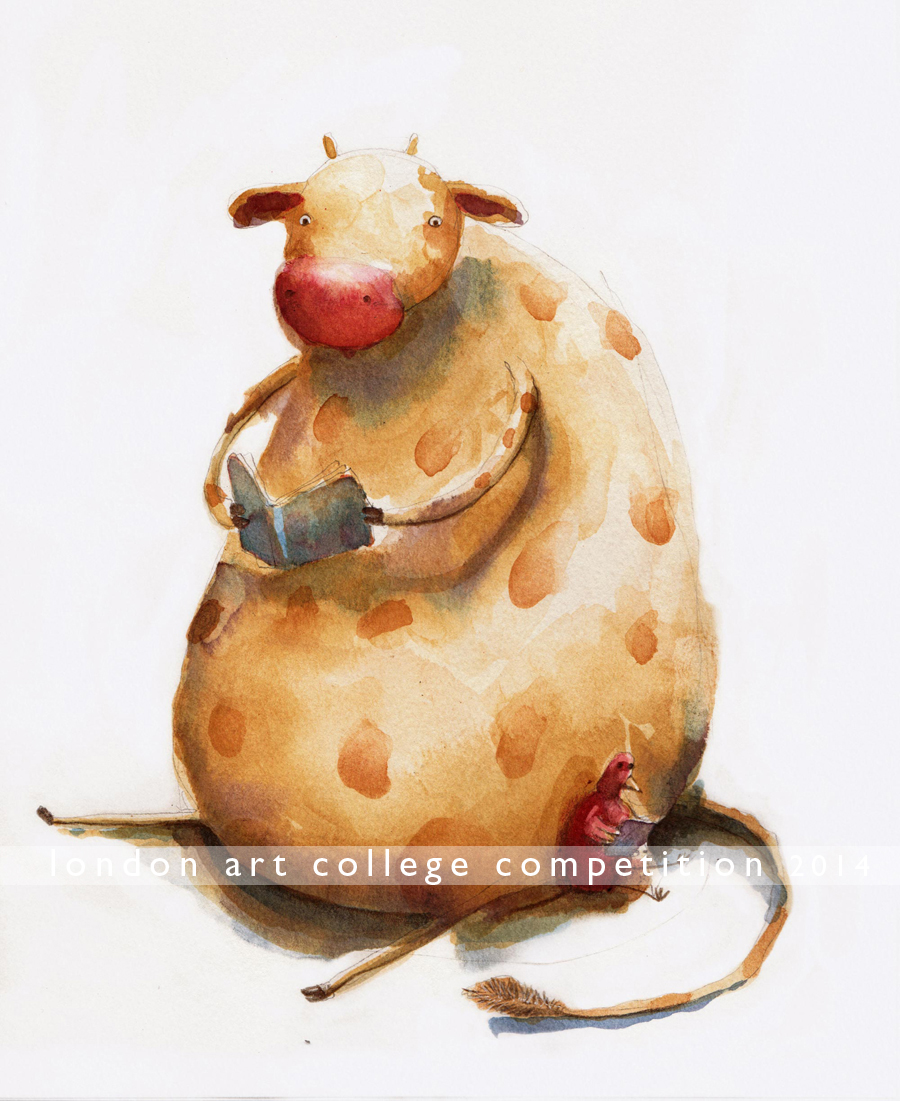 Really pleased to be voted runner up, and its a great honour to be asked to write a few words about the piece.
When I painted The Reading Cow it was for Assignment 4 of the Children's Book Illustration Course that I completed at the end of 2013. I am currently working on producing a Children's Book of my own on the follow up course, and also establishing myself as a freelance illustrator.…as well as working fully time and raising a family.
The Reading Cow started as a bit of practice really and maybe because of this I was able to relax and experiment whilst painting it. I started with a rough pencil sketch (which i left in place) and then applied several washes of watercolour over the top, allowing each one to dry between each application.
Jonathon Cooper