Art Competition 2017 Winners
Welcome to the winner and runner up's page for our 2017 London Art College Art competition.
We had an amazing 130 entries to this years London Art College Competition. We are always delighted with the standard of artwork submitted. We hope the students who entered enjoyed creating the art as much as we enjoyed seeing and admiring the work produced.
CONGRATULATIONS TO EVERYONE WHO TOOK PART!
The tutors and admin staff who attended this years annual conference had the difficult task of choosing a winner and runner up out of the finalists. All of the pieces of artwork were viewed on a projector screen and admired and discussed during the meeting.


Congratulations to this year's WINNER of the London Art College's 2017 Competition

Emma Laurie with her portrait of 'Fenn'
This is a portrait of my cousin's dog, Fenn, he is a lurcher cross. He is drawn from a photograph using Prismacolor pencils and on Daler Rowney pastel paper and a dash of white pen.

In this piece I concentrated on the different colours and directions of light. Even a black dog has a surprising variety of colour!

Emma Laurie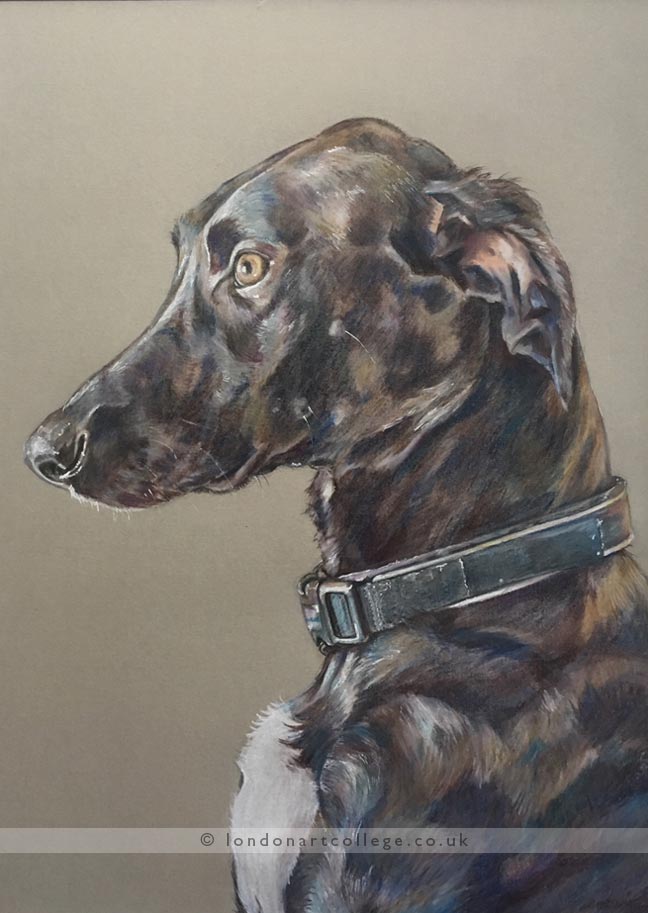 RUNNER-UP - Wening Sekar with her: 'The Morning Series; Breakfast'.
Thank you so much. I'm so happy to be the runner up of the Student Competition 2017. It's an honor for me to know the tutors like my illustration.

The Morning Series; Breakfast was inspired by a content in a healthy TV program in my country about good behaviours in the morning, and one of it is eating breakfast. One of breakfast meal we usually have is fried rice, and meal is not complete without chili sauce and kerupuk (a kind of cracker) and a cup of tea. So, I draw them as the breakfast meal in my drawing. I draw it as colorful as and as cheerful as I can because it is morning series and we need to cheer up as morning is a new beginning.

I enrolled for Illustrating Children's Book Course last year and finished it last July. As I am a student, I followed Illustrating Children's Book Facebook Group. It give me many informations as I don't open London Art College often. I knew about this competition from Ilustrating Children's Books's facebook page, 2 days before the competition was closed. From the very beginning I enrolled in LAC, I wanted to join the Student Competition, and I'm glad I could catch up it this year.

Thank you.
Sincerely

Wening Sekar