Alan Dedman BA, RAs, PGCE.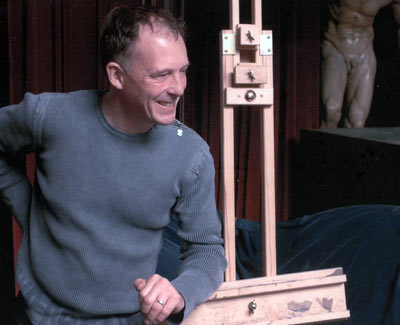 Alan Dedman studied to post-graduate level in London at St. Martin's and the Royal Academy Schools - two of the World's longest established art institutions. His experience of working and living in the capital with all its character, history and rich resources has given him an awareness of art, relevant to contemporary practice. He maintains links with the Royal Academy Schools, occasionally delivering lectures to students there.
He has been producing art works for two decades and is dedicated to the process of personal enquiry and development that comprises fine art practice. Currently he keeps a studio in the shires giving him a fresh take on his activity which is less 'Londonocentric'.
Alan is an eclectic artist, but in effect draws with a pencil and paints with brushes using oils and acrylics; he has a good grasp of digital media having worked as an illustrator.
Whilst at the Academy Schools it was mandatory for students to study from the life model throughout the whole of the first year, something which is rare these days. Drawing is a core aspect of Alan's work. His attention to colour and its expressive potential infuses his work and he is able to relate use of colour to the processes of drawing and painting.
Alan has been a self-employed visual artist for a total of fifteen years; he has commercial experience and awareness of business issues pertaining to art which are relevant to the 'real world' and any advice he offers is always balanced by this. He is committed to continuing professional development which has made him conscious of the specific needs of life-long learning.
He has provided course guidance and syllabus material for the London Art College since 1998 and is capable of communicating with learners at all levels throughout the World. He has contributed to the curriculum within HM prison service and tutored numerous folk in adult education. Essentially therapeutic in style, he delivers his subject with a sense of humour, sensitivity and gentle force of will, interlacing it with personal anecdote and relevant art-historical material.
If you would like to view Alan's website you can visit it at - www.alan-dedman-artist.co.uk