Melanie Phillips HND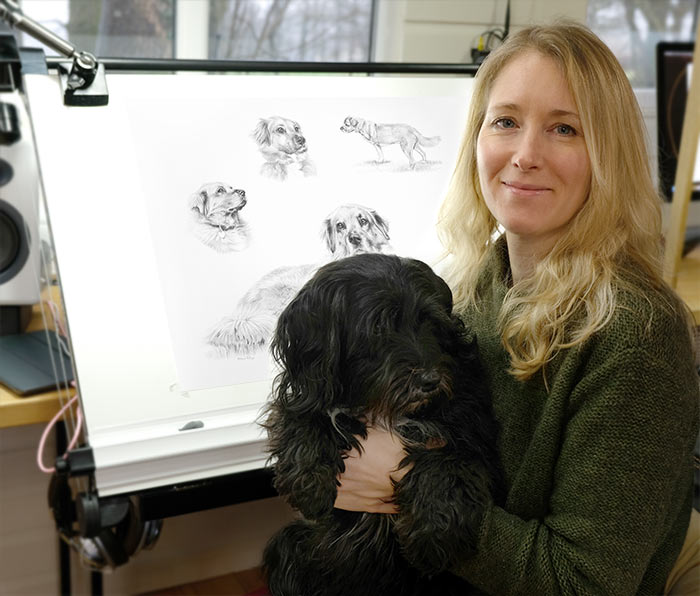 Melanie Phillips is a professional pet portrait artist who joined the team of London art college tutors in 1998. Melanie has written and tutored a variety of courses over the years including the Pet Portraits Diploma, the Coloured Pencil course and both drawing courses for children.
In 2003 Melanie took over the running of the colleges first website and redesigned and maintained it from the early days and grew the site over the years. She set up the online teaching software, a forum, the colleges blog and their social media pages.
Melanie has been a professional pet portrait artist since 1997 and works in her garden studio in rural Wales alongside her husband Nicholas Beall. Melanie specialises in pencil portraits and designs and maintains their pet portraits website. Nicholas is an oil pet portrait painter. They share their studio with a Tibetan Terrier called Lily and a brood of chickens in their garden.
Over the last ten years their business has grown exponentially and Melanie has had to hand over her courses to other tutors as the demands on her own artwork and business continue to grow. She has very fond memories of her students over the years and will always miss teaching.
Melanie's current role for the college is to look after the colleges social media pages, the college news blog, updating the website from time to time, along with some technical support for students and tutors. She runs a weekly art challenge for the students and enjoys hearing from students and running the yearly competitions too.
You can see more of Melanie's work on her dedicated pet portraits website along with seeing a few of her pencil pet portrait drawings below. www.pencil-petportraits.com