Course Prices
Instalments (UK / NI Only)
£315.00 in 4 instalments at £78.75 each
Cartooning Online Art Course
Tutored by John Byrne
The Cartooning Course is a Diploma Course.
The expected duration of this course is approximately 1 year although the college allows students up to two years to complete their studies. This course is suitable for all students. No previous experience is needed with this course and basic drawing techniques are included in the programme.
Bring your cartoons to life! Whether you're cartooning for fun or starting out on a new career, the Cartooning Diploma Course is the first step toward bringing your cartoon world to life. Caricatures, comics, satire or digital, if you've got a passion for cartoons, the Cartooning Diploma Course will teach you the skills you need to excel.
See your work improve as we guide you through different cartooning techniques. Learn and develop your own style with expert tuition and friendly support from hundreds of other students. Enjoy your work as you create, share, discuss and learn.
With 28 written units covering everything from colour and perspective to features and expressions, you'll learn a range of skills that can dramatically improve your work. Many Study Units have video introductions by the tutor to guide you through the course.
Course subjects include:
Getting started

Basic techniques

Colour and perspective

The art of Humour

Cartoon layouts

Children

Animals & birds in cartoons

Figure drawing

Heads & eyes

Features & expressions

Character identification

Main Joke formats

Strip cartoons

Caricatures
The course also includes advice on promoting your work and developing contacts and opportunities.
Our tutors have been helping cartoonists for over 75 years. London Art College started out as a teaching school in Fleet Street – the heart of the UK's press. Since then our tutors have been helping students develop their cartooning skills with personalised help and advice.
So begin your journey into a brighter and more colourful cartooning future today. Click on the link below for course prices and start a Cartooning Diploma Course with London Art College.
Students are able to upload their artwork to the 'The Art Room' on our website. Each student is given a unique username and password on enrolment for their own private section in The Art Room.
Students can upload their artwork for the tutor to collect and critique. The tutor will then upload feedback for the student to download. If you do not have facilities to upload your artwork, you can mail your artwork to the tutors centre and receive your artwork back with your critique. It is essential you label all packages/artwork with your student number.

All our courses are written to be complete in themselves. However we realise that students may appreciate being able to get clarification about various things as they work through their programme as well wanting reassurance that they are putting techniques into practice effectively. The tutors provide the technical support to deal with relevant queries.
Most courses have their own dedicated Tutor. The tutor keeps the course up to date and relevant to today's students. They are available to the individual student for advice and encouragement. Each course has regular exercises and assignments that are constructed in such a way as to give the student the opportunity to practice the techniques learnt on the course and to test themselves as they go along. The student is encouraged to submit the assignment work to the college for the tutor to critique.
The student's work will be returned together with the tutor's personal critique. On many courses the assignment work may be suitable for inclusion in a student's Portfolio of Work that could be very useful later. The college will use the assignments submitted as the basis for any award of a letter, certificate or diploma.

Media: Equipment used
Subject: Areas covered
Techniques: Skills developed

People
Facial expressions
Backgrounds
Caricatures
Children
Animals & birds
Single frame cartoons
Strip cartoons
Children's cartoons
Topical cartoons
Editorial cartoons
Sport cartoons

Drawing
Developing ideas
Perspective
Layouts
Basic Amimation
Selling your work
Click the download button below to view a pdf sample course page which will open in a new tab. Alternatively right click and save the file. Please be patient for it to load.
Below are a few images from the course itself illustrated by tutor and artist John Byrne.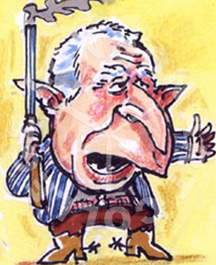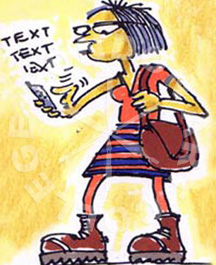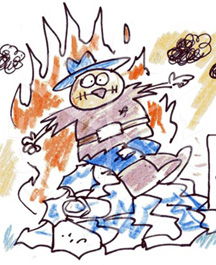 This has been the most positive learning experience I've ever had. In just over a year, I have gone from barely being able to draw to executing four-panel strip cartoons and single panel cartoons in more detail than I imagined possible. John's guidance was positive and really allowed me to get the best out of myself. I can't recommend this course highly enough to people who are interested in humorous cartooning. Also, the price is very reasonable for the value that's on offer.
The course was extremely good, well constructed and the whole experience more than exceeded my expectations. The admin/tech support staff were excellent - Melanie was very helpful throughout. The tutor, John Byrne, was exceptional. His comments were totally constructive, well thought out and always very helpful. A great course!
Lovely course and very helpful. I would use a course like this again.
Good course to lay down the base of your knowledge about the specific course and after that you can by practising get improved.
Just saying thank you very much, my tutor was really helpful and very kind. Thank you :) :) :) :)