Course Prices
Instalments UK & International
£395.00 in 4 instalments at £98.75 each
International students will not be supplied with a paper copy
Chibi Character Creation Online Art Course
Tutored by Monique Piscaer-Bailey

The Chibi Character Creation Art Course is a Diploma Course.


Do you have a love of Manga and everything kawaii?

Would you love to learn how to create your own original Chibi characters from scratch?

If you are jumping in your seat with excitement, this is the course for you!

Chibi is a Japanese slang word describing something short. The term describes a style of caricature where characters are drawn in an exaggerated way. They are small and chubby, with large heads.

The course is suitable for those working traditionally on paper, and students who prefer digital software.

Study at your own pace & unleash your own unique character niche.

The course is supported by a tutor who will give feedback on your coursework.

You will learn:

- Drawing fundamentals of both traditional and glossy Chibis.

- How to draw each body part using basic geometric shapes. Those parts fit together like a puzzle, stage by stage.

- To keep you characters proportional from head to toe.

- Tricks to create your characters in any pose you can imagine.

- How to draw clothes that appear three dimensional.

- Basic colour techniques with pencil crayons or digital software.

- How to create Chibi pets.

On average, the course is typically completed within one year, yet we offer a generous two-year timeframe, ensuring a relaxed, pressure-free learning experience.

We can't wait to see what you will create!
Students are able to upload their artwork to the 'The Art Room' on our website. Each student is given a unique username and password on enrolment for their own private area in The Art Room.
Students can upload their artwork for the tutor to collect and critique. The tutor will then upload feedback for the student to download. If you do not have facilities to upload your artwork, you can mail your artwork to the tutors centre and receive your artwork back with your critique.
It is essential you label all packages/artwork with your student number.
The Chibi courses is written to be complete in itself. However we realise that students may appreciate being able to get clarification about various things as they work through their programme as well wanting reassurance that they are putting techniques into practice effectively. The tutor provides the support to deal with relevant queries.
The Chibi course has its own dedicated Tutor - Monique Bailey. Monique keeps the course up to date and relevant to today's students. She is available to the individual student for advice and encouragement. The course has regular exercises and assignments that are constructed in such a way as to give the student the opportunity to practice the techniques learnt on the course and to test themselves as they go along. Students are encouraged to submit the assignment work to the college for the tutor to critique.
The assignment work may be suitable for inclusion in a student's Portfolio of Work that could be very useful later. The college will use the assignments submitted as the basis the award of your diploma.
If work is posted in it will be returned, although we do recommend using the online submission system.
On successful completion of this course you will have studied new skills and gained knowledge for your own enjoyment and development.

Media: Equipment used
Subject: Areas covered
Techniques: Skills developed

Traditional Drawing Media
Or Digital Media

Drawing Fundamentals of Chibi
Drawing the Body - Chibi Style
Proportions
Poses
Chibi Clothing
Chibi Pets
Colour Work

Composition
Character Creation
Colour
Developing Ideas
Click the download button below to view a pdf sample course page which will open in a new tab. Alternatively right click and save the file. Please be patient for it to load.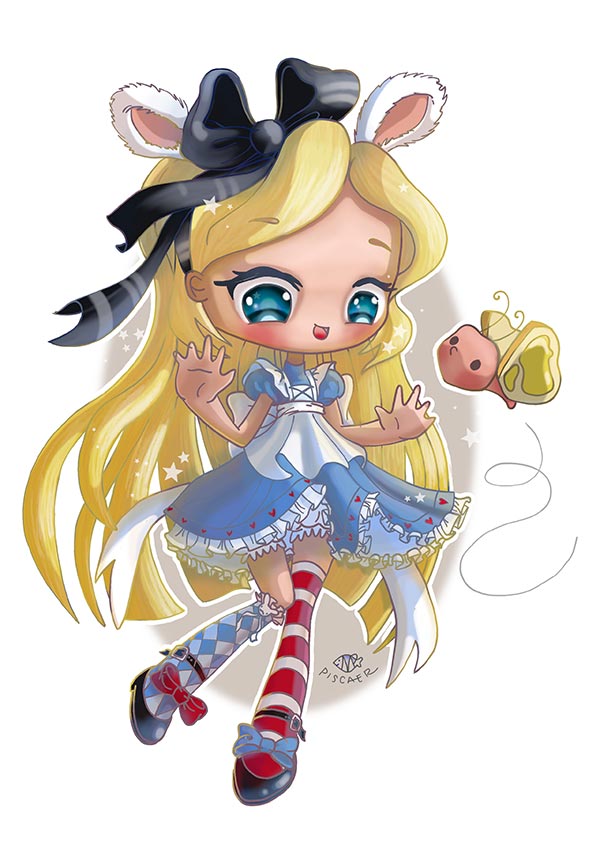 Monique is an amazing tutor! Her feedback was extremely detailed and constructive…a real labour of love!
The Chibi creation course has been excellent. Monique Bailey is so creative and enthusiastic and this inspired me to learn a totally different style of drawing. I loved the course and have learnt so much and I know I have so much much more to learn. I am a Senior but am always ready to learn something new, thank you Monique for your brilliant constructive feedback.