Course Prices
Instalments UK & International
£310.00 in 4 instalments at £77.50 each
International students will not be supplied with a paper copy
Drawing With Pens Online Art Course
Tutored by Monika Cilmi BA, MA, PGCE.
The Drawing With Pens Course is a Certificate Course.
The expected duration of this course is approximately 1 year although the college allows students up to two years to complete their studies. This course is suitable for students with previous experience in drawing and painting.
The Drawing with Pens Course shows how to uses the wide range of different types of modern pens such as felt tips, brush pens, fine liners, graphic pens and markers. You will find this medium is often used in illustration as well as in many drawing styles of art and it can be mixed with other techniques. With this course and the tutor feedback you can use pens to create amazing effects and works of art using textures and free style for any subject.
This course will teach you proper techniques and with opportunity to experiment you will be able to advance to produce accomplished work.
This is a complete written course in drawing with pens with some guidance on basic drawing techniques. We open the course with a chapter on materials, types of pens and brands and some advice on paper to use. Then we move onto some basic observational skills and working on various techniques and how to create specific textures to use on different subjects such as nature, animal, plants and landscape and even abstract.
The course is suitable for beginners as well as intermediates giving the fundamental knowledge required to work with this medium. Exercises are set at various levels, providing opportunities to refine your techniques and advance each students' artistic capabilities.
Students are able to upload their artwork to the 'The Art Room' on our website. Each student is given a unique username and password on enrolment for their own private area in The Art Room.
Students can upload their artwork for the tutor to collect and critique. The tutor will then upload feedback for the student to download. If you do not have facilities to upload your artwork, you can mail your artwork to the tutors centre and receive your artwork back with your critique.
It is essential you label all packages/artwork with your student number.

All our courses are written to be your comprehensive guide into each of their subject matters. We understand that students appreciate clarification about various aspects of their work from a course tutor, whom provide reassurance that techniques are put into practice effectively.
Each courses has its own dedicated Tutor. The tutor keeps the course up to date and relevant to today's students. They are available to the individual student for advice and encouragement. Each course has regular exercises and assignments that are constructed in such a way as to give the student the opportunity to practice the techniques learnt on the course and to test themselves as they go along. Students are encouraged to submit the assignment work to the college for the tutor to critique.
Coursework can be submitted online, as digital photographs, in your individual art room account and the tutor will upload their critique for you to download and retain forever.
On many courses the assignment work may be suitable for inclusion in a student's Portfolio of Work that could be very useful later. The college will use the assignments submitted as the basis for your award of a certificate.
On successful completion of this course you will have studied new skills and gained knowledge for your own enjoyment and development.

Media: Equipment used
Subject: Areas covered
Techniques: Skills developed

Pens - Liners, Graphic, Brush and Markers

Materials
Birds and Fish
Flowers and Plants
Landscapes
Abstract and Abstraction
Manga

Drawing
Pen Work
Composition
Perspective
Textures
Stylization
Click the download button below to view a pdf sample course page which will open in a new tab. Alternatively right click and save the file. Please be patient for it to load.
Below are a few images from the course itself.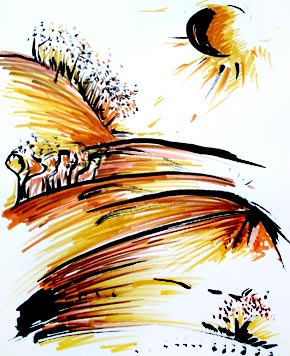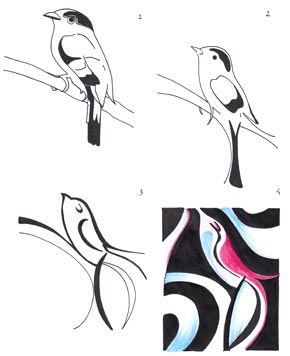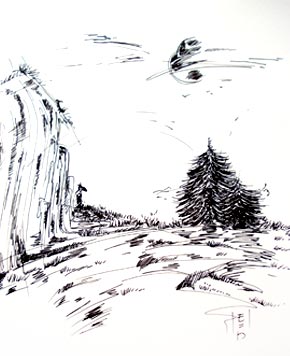 Thoroughly enjoyed the course, it introduced me to new ways of using pens and the feedback Monika gave was always very prompt and encouraging.
A very big thank you to Monika for all her support and enthusiasm. I did not want the course to finish.
I thoroughly enjoyed learning how to use different pens in different styles and I much appreciated Monika's prompt and positive feedback. I would certainly recommend 'Drawing with Pens' to anyone looking to improved their pen skills.
I didn't study arts so I am always thinking I did something wrong which I didn't realize while drawing. I am really very happy and proud now and this gives me the push for the final round . I wanted to thank you also about the tips I got from you in my last assignment Feedback they were very helpful.