Course Prices
Instalments UK & International
£310.00 in 4 instalments at £77.50 each
International students will not be supplied with a paper copy
Science Fiction & Fantasy Online Art Course
Tutored by John Byrne
The Science Fiction and Fantasy Course is a Certificate Course.
A unique blend of history, technique and imagination, the Science Fiction and Fantasy Certificate Course takes you on a journey into the fantastic. Combining a beautifully illustrated exploration of fantasy and science fiction in art with a comprehensive tutorial on creating your own, there really is nothing quite like it.
Visit fantastical realms and learn how to build, paint and sketch your own with the Science Fiction and Fantasy Certificate Course from London Art College which includes feedback from a tutor on your coursework.
Course subjects include:

Anatomy

Narrative

Airbrushes

Composition

Perspective

Panel layout

Colour theory

Different styles

Creating worlds

Imaginative creatures

Black & white comic strips
From medieval monsters and pre-Raphaelite myths to modern-day comic-books and science fiction movie art, the history of science fiction and fantasy in art is as diverse as it is fascinating. Learn about the people behind the artwork and marvel at the amazing work that they created. Find inspiration for your own artwork in the fantastic worlds of the past.
Explore your own creativity with a comprehensive set of written teachings that cover everything from creature creation to genre choices, fantasy landscapes and comic creation. Your tutor will provide personalised support whether you are working in traditional media such as pen and ink or paint or in digital media.
Embark on a captivating journey into the realms of the extraordinary with our online Science Fiction and Fantasy Art Course. Dive into this fascinating world, where imagination knows no bounds, and creativity has limitless potential. Over the course, you will explore the techniques and inspirations behind crafting stunning artworks that transport viewers to otherworldly dimensions; our course offers a dynamic platform for honing your skills and forging your path through the cosmos of science fiction and fantasy art. Join us, and let your creativity take flight to uncharted galaxies and magical realms
The expected duration of this course is approximately 6 months although the college allows students up to one year to complete their studies.
This course is suitable for students with previous experience in drawing and painting.
Students are able to upload their artwork to the 'The Art Room' on our website. Each student is given a unique username and password on enrolment for their own private area in The Art Room.
Students can upload their artwork for the tutor to collect and critique. The tutor will then upload feedback for the student to download. If you do not have facilities to upload your artwork, you can mail your artwork to the tutors centre and receive your artwork back with your critique.
It is essential you label all packages/artwork with your student number.

All our courses are written to be your comprehensive guide into each of their subject matters. We understand that students appreciate clarification about various aspects of their work from a course tutor, whom provide reassurance that techniques are put into practice effectively.
Each courses has its own dedicated Tutor. The tutor keeps the course up to date and relevant to today's students. They are available to the individual student for advice and encouragement. Each course has regular exercises and assignments that are constructed in such a way as to give the student the opportunity to practice the techniques learnt on the course and to test themselves as they go along. Students are encouraged to submit the assignment work to the college for the tutor to critique.
Coursework can be submitted online, as digital photographs, in your individual art room account and the tutor will upload their critique for you to download and retain forever.
On many courses the assignment work may be suitable for inclusion in a student's Portfolio of Work that could be very useful later. The college will use the assignments submitted as the basis for your award of a certificate.
On successful completion of this course you will have studied new skills and gained knowledge for your own enjoyment and development.


Media: Equipment used
Subject: Areas covered
Techniques: Skills developed

Pencil
Technical Drawing Pen
Watercolour
Ink
Gouache
Acrylics

Black & White Comic Strips
Anatomy
Imaginative Creatures
Creating Worlds

Composition
Perspective
Panel Layout
Narrative
Colour Theory
Different Styles
Airbrush
Click the download button below to view a pdf sample course page which will open in a new tab. Alternatively right click and save the file. Please be patient for it to load.
Below are a few images from the course.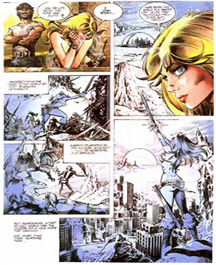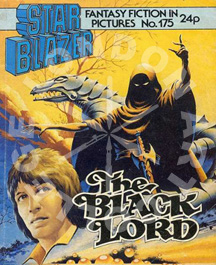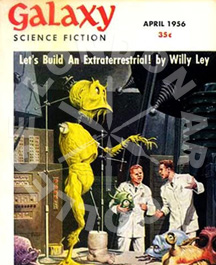 I have really enjoyed the Sci-Fi/Fantasy course. I have learnt how to translate ideas into finished work, how to create compositions and how to frame them. I have also learnt how to use various materials from ink to gouache. I have also gained a lot of confidence and not to be afraid to try new things. I have already begun to use my new skills to create my own graphic novel. The tutor John Byrne has been encouraging and supportive. The feedback to my assignments have been constructive and has helped me progress further. I asked for advice about working in comics and publishing and the advice I received has been extremely helpful. I am sad the course has come to an end. I am Autistic and struggle with socialising and leaving the house. The London Art College has really been a wonderful way for me to learn and grow as an artist.
I really enjoyed this course, it has improved my art and work a lot, and John is a fantastic tutor. I now need to look at which course to do next. - Thank you ever-so-much.