Course Prices
Instalments UK & International
£395.00 in 4 instalments at £98.75 each
International students will not be supplied with a paper copy
Digital Illustration Online Art Course
Tutored by Monique Piscaer Bailey.
The Digital Illustration Course is a Diploma Course.
With simple, clear written tuition you will learn everything from making your first digital marks on a digital canvas to layers, effects, transformations and vectors. All of this with your experienced tutor available to guide you and teach you shortcuts learned from years of working digitally.
Open the door to a new world of artistic exploration. Unleash your creativity with a new set of tools and techniques from the digital realm with the Digital Illustration Course from the London Art College.
The course is created to be used in conjunction with the free bitmap software called Gimp. We also touch on Vector graphics using the free software called Inkscape. So there is no outlay for students in software when completing this course.
The course includes:
Bitmaps & Vectors

Using digital brushes, pencils and pens

Using colour, highlights, shadow and blending

Adding text

Layers, filters and transformations

Combining your real world art with digital techniques
And much more!
On average, this course typically spans one year for completion, but we provide a generous timeframe of up to two years, ensuring a relaxed and stress-free learning experience with no time constraints.
This course is suitable for all students of all levels with an desire to take their existing skills into the digital realm.
Whether you are looking for another medium to explore, or you are a professional artist seeking the digital advantage, this course provides all the detail you need to get started. Scroll down to read more about what the course entails. Information on the hardware required can be found in the 'Materials list' section.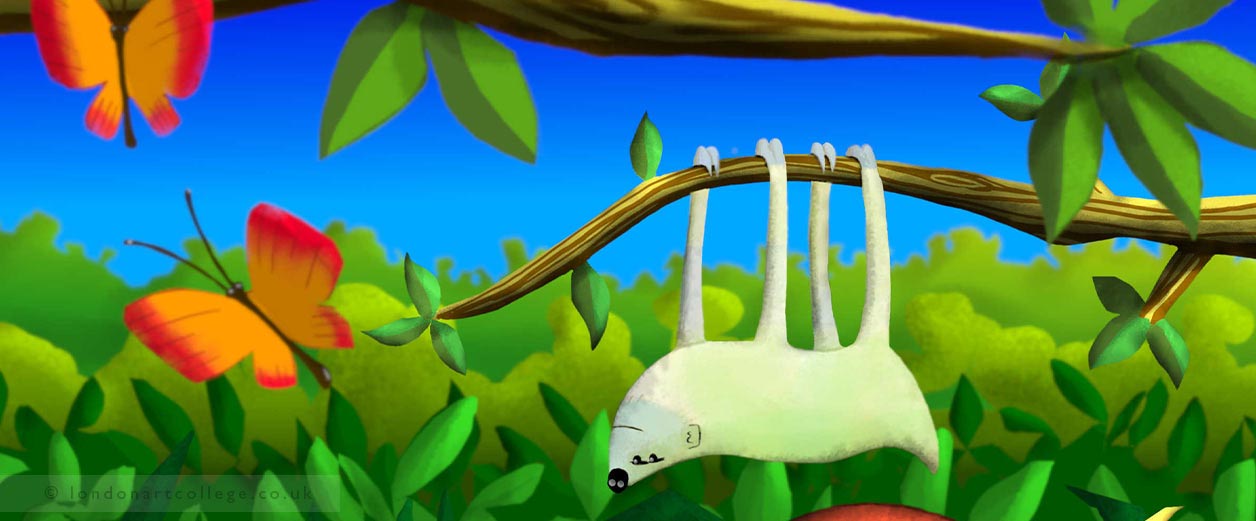 Digital Illustration (Detail) by Lionel Meyringer
All our courses are written to be your comprehensive guide into each of their subject matters. We understand that students appreciate clarification about various aspects of their work from a course tutor, whom provide reassurance that techniques are put into practice effectively.
Each courses has its own dedicated Tutor. The tutor keeps the course up to date and relevant to today's students. They are available to the individual student for advice and encouragement. Each course has regular exercises and assignments that are constructed in such a way as to give the student the opportunity to practice the techniques learnt on the course and to test themselves as they go along. Students are encouraged to submit the assignment work to the college for the tutor to critique.
Coursework can be submitted online in your individual art room account and the tutor will upload their critique for you to download and retain forever.

On many courses the assignment work may be suitable for inclusion in a student's Portfolio of Work that could be very useful later. The college will use the assignments submitted as the basis for your award of a diploma.
On successful completion of this course you will have studied new skills and gained knowledge for your own enjoyment and development.

Media: Equipment used
Subject: Areas covered
Techniques: Skills developed

Any Computer running Windows
(this does not include tablets or mobiles)
Flatbed Scanner Connected to a Computer
Photo Editing Software -
(Gimp & Inskcape which are Free)
Graphics Tablet - See information below

Using drawing and painting tools
Working with colour
Manipulating your images
Using layers
Shapes and lines
Filters
Word and pictures
Vectors

Transition from traditional to digital
Full understanding of digital illustration
Developing your technical abilities
Drawing and painting digitally.
Click the download button below to view a pdf sample course page which will open in a new tab. Alternatively right click and save the file. Please be patient for it to load.
Below are a few images from the course itself.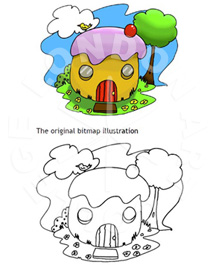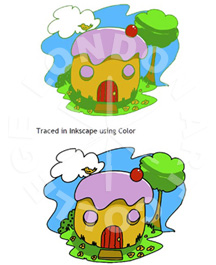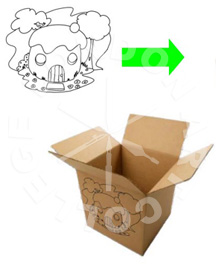 I found the digital illustration course to be enjoyable and very helpful for my overall art skills!
Even though I had been doing digital art for a number of years before I took this course I learned so much more about it as an art type and how I can further improve my skills and techniques in different software's.
I discovered that you can do so much more with digital art than I ever thought and finding forms of it such as vectors has opened my eyes that there's still so much more excitement to be found!
My tutor Monique was so incredibly kind, helpful and thoughtful with her feedback. She was so patient with me even when I handed in assignments months apart from each other and I cherish and still actively act on all her feedback she has given me throughout the course. She really helped me push myself out my comfort zone and made me really believe that I can do so much more with art than I ever thought I could. Thanks to her I am able to incorporate elements into my art I was always scared to before and see how well they add to the overall piece. As someone who has had a complicated relationship with art the past few years, having a tutor like her is invaluable and I could not be happier :)
Thank you for creating such a wonderful course!
Monique is brilliant. Her feedback was not only thorough and easy to understand it was also very interesting and helped me see things I didn't before. She is so friendly and pleasant and really takes time to look at your work and think about what is useful to you. The course was very nicely paced and I feel I improved hugely and it opened up my creativity whereas before I felt restricted. I would recommend the course to anyone who is willing to put the effort in and would definitely recommend the college. I would consider studying more with the college in the near future

This course surpassed my expectations. I've learned so much. Monique is a very supportive, hands on tutor.
I loved it and Monique is brilliant - her critiques are spot on and take a student's at to the next level and she's so warm and encouraging. Love it!
I absolutely loved doing the Digital Illustration course - even though sometimes I felt as though I was entering a world inhabited by Klingons! Monique did a brilliant job of guiding me through my many technical difficulties. She was always helpful, patient and forever optimistic. A great tutor and a great course - digital artwork has opened up all sorts of fun areas to investigate in the future! Many thanks.
Monique was a fantastic tutor, very insightful and engaging, with great personalized feedback. I really found her enthusiasm for art very infectious and I thoroughly enjoyed doing the course.
It was a great experience and I learnt a lot.
I'm more than happy that I made that journey in LAC with my tutor Monique Bailey, and I would like to thank her once again for her kindness, for her advice and for the help that she gave me every time that I ask for it.
My experience so far of the Digital Illustration Diploma Course:
If you are reading this post because you are considering taking the Digital Illustration Diploma course, then let me first say that I can thoroughly recommend it. The course content is fascinating and well structured. The tutor, Monique Bailey, has been unfailingly helpful and enthusiastic. I found the course stretched me quite as much as I thought it would – and then some! The surprising aspect to me, was how it changed my art work and gave me so much fun along the way.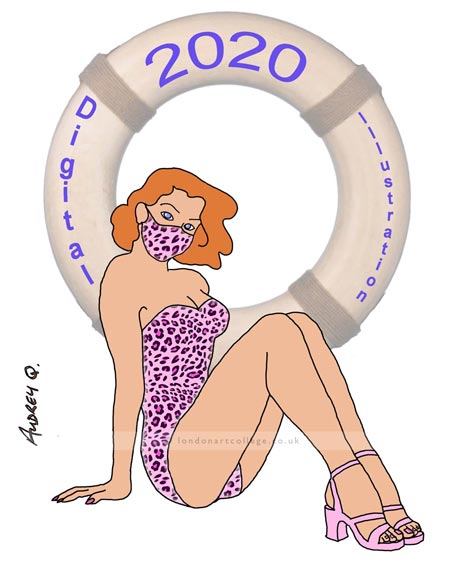 This course can be taken over a two year period and, when I started, I had already decided not to rush things. I wanted to enjoy the journey and take my time along the way. Back then we couldn't have foreseen Covid and the changes it would bring to our world. I certainly found that I had plenty of free time during lock-down to practice my digital skills. This is, of course, one of the great advantages of a correspondence course – it is hugely flexible.

I am now about 18 months into the two year course and I would love to be able to say that I am totally confident with my digital skills – nope! But I am still learning and things are definitely clicking into place. I haven't quite turned into a computer nerd but I certainly feel that I can now swear fluently in Klingon. Most of my frustration has been directed at GIMP – the free image manipulation program (progenitor of Photoshop) that is used for the major part of the course. It puts a vast – and I mean vast - art studio's worth of equipment at my finger tips but, as I have discovered, learning to use all these exciting new tools takes time – but the course materials and the wonderful tutor are always there to give guidance and support.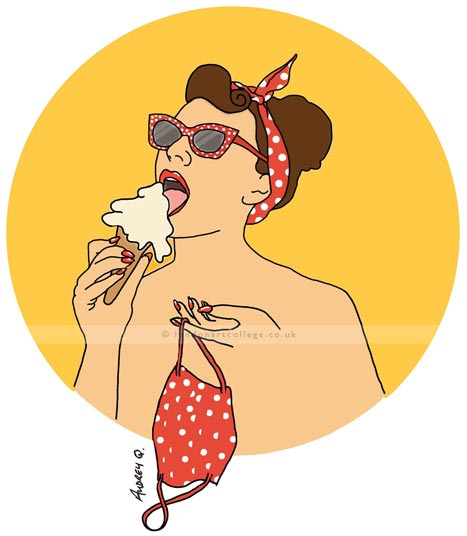 At the time of writing this I am on the final assignment of the bit-map part of the course – Assignment 5. I have covered the use of a wide number of selection and painting tools and have been very excited by the way colour can be used. This has encouraged me to adopt, for the moment, a 'hard edge' style of art…
Now, I know that this particular course is not meant to be about developing personal styles of art but, in my case, it certainly did. I can now look back and see the route I have been taking over the last eighteen months and realise that my first forays into digital art took me via the art movements of the 60s – the work of artists such as Roy Lichtenstein and Patrick Caulfield. I began using areas of flat colour and hard black outlines to make nostalgic-style illustrations that were reminiscent of the 40s but were adorned by the very contemporary face mask! I got as much fun from this change in the direction of my work as in learning the many new things that I could do with my Wacom and GIMP.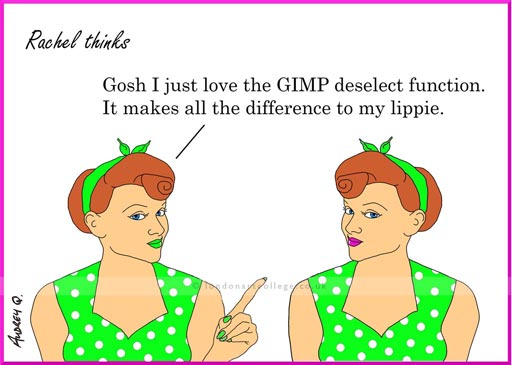 At this stage in the course I would say that the big breakthrough was when I began checking my work from a different perspective – making certain, in the words of Monique that it is 'crispy'. When using traditional media such as watercolours or oils, I am used to stepping back to see how things are going. I have now trained myself to do the reverse - noticing any mistakes by zooming in to look at what's going on at the pixel level. My maxim now is: 'Don't step back - step inwards!'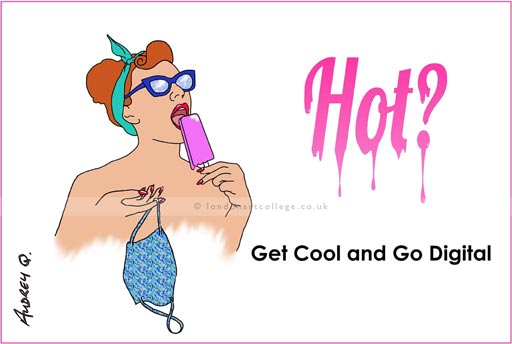 This course surpassed my expectations. I've learned so much. Monique is a very supportive, hands on tutor.
Students are able to upload their artwork to the 'The Art Room' on our website. Each student is given a unique username and password on enrolment for their own private area in The Art Room.
Students can upload their artwork for the tutor to collect and critique. The tutor will then upload feedback for the student to download.


Requirements:
A Computer
You will need a computer or laptop running Windows to complete this course. This does not include iPads, tablets or mobile phones. It is important that your hardware is up to running photo editing tasks and dealing with large files. The better your set up is, the faster you will be able to work. Something less than five years old is preferable but not essential. Don't feel you need to splash out on new hardware specifically for the course.
You should be able to run photo editing software like GIMP and Inkscape. Additionally you should be able to attach a flatbed scanner and a Graphics Tablet to your computer. These are explained in more detail below. You will also need room on your computer to store your files so you can save them for later. It might be handy to use an external storage device.
Some Knowledge of Computers
We give you all the information you need to scan your artwork into your computer so we can colour it. You will need to know how to connect your scanner and how to scan.
A Scanner
In the case of hand drawn artwork, we recommend using a flatbed scanner connected to your computer so that you can digitalise your work. This can be any scanner / printer or a dedicated photo scanner. It can be purchased new or second hand. As long as you are able to scan your artwork into your computer, you will be fine. Scanners produce better results than photographs of your work as they will provide you with a flat, evenly lit version of your drawing or line art to work on in the computer.
A Graphics Tablet and Pen
Using a mouse to manipulate your digital work may be cumbersome and it can be done for this course, however a Graphics Tablet will be easier for you. Graphic tablets give you the feel of a pencil or pen in your hand and are pressure sensitive. This means the harder you press, the darker the line just like a real pencil. They are much more precise than a mouse. You can purchase new or second hand, there are usually plenty available at a variety of price points. Don't feel you have to buy the best or anything too expensive. You can always upgrade in the future.
Photo Editing Software - GIMP and Inkscape
The digital illustration course is designed to be used with GIMP and Inkscape. Although most editing software is similar, we recommend using Gimp and Inkscape while you are learning and working through the course. Other programs may be problematic if your toolbox, filters and settings are very different as your tutor may not be able to advise you. GIMP and Inkscape are free to download and use. You might also find the following information helpful.
If you would like to find out more about GIMP or Inkscape please visit our
Student Help Section
for more information, with links to download and videos to get you started.
If you have any questions about the requirements for this course please email
admin@londonartcollege.co.uk
and we will be able to guide you further.