Course Prices
Instalments (UK / NI Only)
£375.00 in 4 instalments at £93.75 each
Digital Illustration Online Art Course
Tutored by Monique Piscaer Bailey
The Digital Illustration Course is a Diploma Course.
The expected duration of this course is approximately 1 year although the college allows students up to two years to complete their studies. This course is suitable for all students.
Open the door to a new world of artistic exploration. Unleash your creativity with a new set of tools and techniques from the digital realm with the Digital Illustration Course from the London Art College.
With simple, clear tuition you will learn everything from making your first digital marks on a digital canvas to layers, effects, transformations and vectors. All of this with your experienced tutor by your side to guide you throughout and teach you shortcuts learned from years of working digitally.
The course includes:
Guidance on choosing your hardware and software

Bitmaps & Vectors

Using digital brushes, pencils and pens

Using colour, highlights, shadow and blending

Adding text

Layers, filters and transformations

Combining your real world art with digital techniques
And much more!
Whether you are looking for another medium to explore, or you are a professional artist seeking the digital advantage, this course provides all the detail you need to get started. Scroll down to read more about what the course entails.
All our courses are written to be complete in themselves. However we realise that students may appreciate being able to get clarification about various things as they work through their programme as well wanting reassurance that they are putting techniques into practice effectively. The tutors provide the technical support to deal with relevant queries.
Most courses have their own dedicated Tutor. The tutor keeps the course up to date and relevant to today's students. They are available to the individual student for advice and encouragement. Each course has regular exercises and assignments that are constructed in such a way as to give the student the opportunity to practice the techniques learnt on the course and to test themselves as they go along. The student is encouraged to submit the assignment work to the college for the tutor to critique.
The student's work will be returned together with the tutor's personal critique. On many courses the assignment work may be suitable for inclusion in a student's Portfolio of Work that could be very useful later. The college will use the assignments submitted as the basis for any award of a letter, certificate or diploma.
Media: Equipment used
Subject: Areas covered
Techniques: Skills developed

Any Computer running Windows or MacOS
(this does not include tablets or mobiles)
Flatbed Scanner Connected to a Computer
Photo Editing Software -
(Gimp & Inskcape which are Free)
Graphics Tablet - See information below

Using drawing and painting tools
Working with colour
Manipulating your images
Using layers
Shapes and lines
Filters
Word and pictures
Vectors

Transition from traditional to digital
Full understanding of digital illustration
Developing your technical abilities
Drawing and painting digitally.
You will require - Some Knowledge of Computers
This is not a computing course so we recommend brushing up on your technology skills before continuing. For example; we will ensure we give you all the information you need to scan your artwork into your computer so we can colour it, however we are unable to teach you how to connect your scanner and how to scan.
You will require - A Computer
You will need a computer or laptop running Windows or MacOS to complete this course. This does not include ipads, tablets or mobile phones. It is important that your hardware is up to running photo editing tasks and dealing with large files. The better your set up is, the faster you will be able to work. Something less than five years old is preferable but not essential. Don't feel you need to splash out on new hardwear specifically for the course.
As long as your set up can run photo editing software like GIMP and Inkscape and you can attach a flatbed scanner and a Graphics Tablet to it, your set up should be fine. These are explained in more detail below. You will also need room on your computer to store your files so you can save them for later. It might be handy to use an external storage device.
You will require - A Scanner
We recommend using a flatbed scanner connected to your computer so that you can digitalise your hand drawn artwork. This can be any scanner / printer or a dedicated photo scanner. It can be purchased new or second hand. As long as you are able to scan your artwork into your computer, you will be fine. Scanners produce better results than photographs of your work as they will provide you with a flat, evenly lit version of your drawing or line art to work on in the computer.
You will require - A Graphics Tablet and Pen
Using a mouse to manipulate your digital work is cumbersome and it can be done for this course, however a Graphics Tablet will be easier for you. Graphic tablets give you the feel of a pencil or pen in your hand and are pressure sensitive. This means the harder you press, the darker the line just like a real pencil. They are much more precise than a mouse. You can purchase new or second hand, there are usually plenty avaliable at a variety of price points. Don't feel you have to buy the best or anything too expensive. You can always upgrade in the future.
You will require - Photo Editing Software -

GIMP and Inkscape
The digital illustration course and worknotes are designed to be used with GIMP and Inkscape. Although most editing software is similar, we reccomend using Gimp and Inkscape while you are learning and working through the course. Other programs may be problematic if your toolbox, filters and settings are very different as your tutor may not be able to advise you. GIMP and Inkscape are free to download and use and you might find the following information helpful.
If you would like to find out more about GIMP or Inkscape please visit our
Student Help Section
for more information, with links to download and videos to get you started.
If you have any questions about the requirements for this course please email
admin@londonartcollege.co.uk
and we will be able to guide you further.
Click the download button below to view a pdf sample course page which will open in a new tab. Alternatively right click and save the file. Please be patient for it to load.
Below are a few images from the course itself illustrated by tutor and artist Spencr Hill.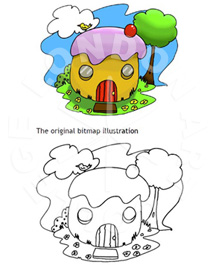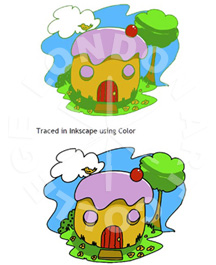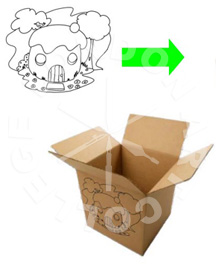 Students are able to upload their artwork to the 'The Art Room' on our website. Each student is given a unique username and password on enrolment for their own private section in The Art Room. Students can upload their artwork for the tutor to collect and critique. The tutor will then upload feedback for the student to download.