Course Prices
Instalments UK & International
£395.00 in 4 instalments at £98.75 each
International students will not be supplied with a paper copy
Landscape Painting Online Art Course
Tutored by Alan Dedman BA, RAS, PGCE and Paul Weaver
The Landscape Painting Course is a Diploma Course.
Capture sweeping panoramas and stunning landscapes in breath-taking detail with the Landscape Painting Diploma Course from London Art College, with feedback on coursework by your tutor.
Explore the art of infusing depth, vibrant colors, and character into your landscapes while developing your own personal style. With hands-on guidance and step-by-step tutorials on framing and composing your artwork, you can enhance the depth and allure of your landscapes, captivating your viewers. If you've ever grappled with the nuances of light and shadow or pondered the challenges of capturing the sun's journey across the sky, this course is tailored to meet your needs.
Course subjects include:
Bringing mood and emotion into the scene

Recognising the Lie of the Land

Mastering seascapes and mountains

Watercolours and oils

Urban settings

Animals at a distance

Perspective and depth

Fantasy landscapes and bringing imagination to the fore

And more
As one of the most comprehensive written courses of its kind, you'll get a wealth of material and expert tuition from the moment you begin. You'll also have an opportunity to share your work with other students online and get feedback from your tutor on your progress as you master each technique - all while working around your other commitments from the comfort of your own home.

Whether you're painting landscapes for the first time or you're keen to bring more skill to your work, this diploma is the perfect place to start.
This course is focused on the skills of landscape painting and previous experience of drawing and painting is required.
Students are able to upload their artwork to the 'The Art Room' on our website. Each student is given a unique username and password on enrolment for their own private area in The Art Room.
Students can upload their artwork for the tutor to collect and critique. The tutor will then upload feedback for the student to download. If you do not have facilities to upload your artwork, you can mail your artwork to the tutors centre and receive your artwork back with your critique.
It is essential you label all packages/artwork with your student number.

Paintings by Jean-Cristophe Catera

All our courses are written to be your comprehensive guide into each of their subject matters. We understand that students appreciate clarification about various aspects of their work from a course tutor, whom provide reassurance that techniques are put into practice effectively.
Each courses has its own dedicated Tutor. The tutor keeps the course up to date and relevant to today's students. They are available to the individual student for advice and encouragement. Each course has regular exercises and assignments that are constructed in such a way as to give the student the opportunity to practice the techniques learnt on the course and to test themselves as they go along. Students are encouraged to submit the assignment work to the college for the tutor to critique.
Coursework can be submitted online, as digital photographs, in your individual art room account and the tutor will upload their critique for you to download and retain forever.
On many courses the assignment work may be suitable for inclusion in a student's Portfolio of Work that could be very useful later. The college will use the assignments submitted as the basis for your award of a diploma.

Media: Equipment used
Subject: Areas covered
Techniques: Skills developed

Watercolour
Oils
Acrylics
Gouache

Colour
Time of Day
Water
Skies
Seascapes
Urban Subjects
People in Landscapes
Animals in Landscapes
Trees & Foliage
Surreal Landscapes

Colour Mixing
Observation
Perspective
Composition
Painting Out of Doors, Design

Enlarging Images
Click the download button below to view a pdf sample course page which will open in a new tab. Alternatively right click and save the file. Please be patient for it to load.
Below are a few images from the course.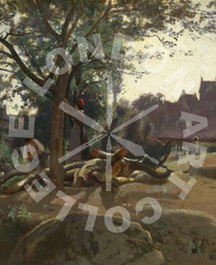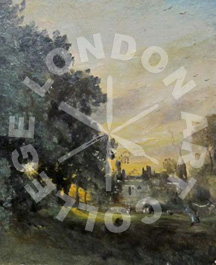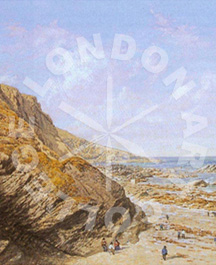 I have had an excellent time on the course, my tutor Paul and the admin team have been really helpful and kind. I feel that I have improved my skills and the critique has been very beneficial. It has been a really valuable experience overall.

Thank you so much for your feedback. I've never received it in audio file before. It is the best feedback I've ever received!

The Landscape Painting course helped me a lot in understanding nature more deeply, my way of drawing and understanding the colors of nature is improved after this course . Many thanks to my course teacher Alan who guides me right from time to time and very kind thanks to the entire London Art team.

I have found the course very good and enjoyed the fact that it is online and that I can work at my own pace without set deadlines.

I have really enjoyed the Landscape Course. I found this course to be well planned and structured which allowed me to learn each of the topics and finish the assignments with enough time to spare. My Tutor's feedback was the main driver which gave me encouragement throughout the course. I would highly recommend this course to anyone who would like to pursue a career in Landscape Art.

I have thoroughly enjoyed the course. It has given me confident to paint outside and to join other artists on painting holidays. It has given me a broader diverse outlook on art in general and made me appreciate other artists' work. The course was flexible giving you the opportunity to study more if you wish into each topic within each assignment. Or indeed do it all again using different locations and ideas, so well worth the money. Now I feel like I am at the beginning of my painting hobby and well equip to carry on enjoying what I have learnt.

I thoroughly enjoyed the landscape painting course with Alan Dedman. The course challenged me to try techniques and approaches I hadn't attempted before, which took me out of my comfort zone and as a result, I felt this helped me to develop my skills in a positive way.
Alan's feedback and advice were always positive and constructive. I particularly appreciated his advice to make my paintings more colourful, to set them at a particular time of day and to include narrative content. I feel that my work has progressed as a result of following his advice.
The course content and the way it is presented is clear and easy to follow. I found the website easy to use and the method of submitting work is very straight forward. I found that the course gave me focus, it was something to aim for and work towards and it was a good way of dealing with the lockdown situations we have found ourselves in. Now that I have finished the course, I will certainly miss it!
I would definitely recommend the landscape painting course and the London Art College to others.
A very organised and helpful course. Alan Dedman gave me constructive and honest critique when he viewed my work which I found invaluable. LAC online course highly recommended.

I was really happy with this course for many reasons. One was the diversity of the assignments, often broaching subjects I would never have done alone. It pushed me out of my comfort zone and taught me to think and see certain aspects of landscape painting from a very different perspective.