Online Art Course Testimonials and Letters
This section is dedicated to students who have very kindly written testimonials about the college, their course, their tutor and we are proud to present them here along with a sample of the students work. If you are a happy student and would like to send us a similar testimonial, please don't hesitate to contact us at any time.
---
Angela Cater completed the Illustrating Children's Books Diploma course and wrote us this wonderful piece about her successes as an author and illustrator.
My Name is Angel Cater and I began the Children's Illustration course in early 2005, but a series of tragedies during that year caused me to put my painting and the course on hold. I began 2006 determined to have a better year and in addition to resuming the course, I began illustrating a children's picture book that I had written called "The Adventures of Sailor Sam". The star of the book is my very handsome and charismatic tabby cat, Samson. It became very much a family project as the human characters in the book were modelled by my cousins, their sons and other friends. The book was self-published in November 2006 by a POD publisher and proved a big hit at the school where I work and within my locality. Samson, himself, was featured in several local papers. However, I quickly discovered for myself the evils of the vanity press and hit big problems with that publisher. This March was my 40th birthday and I decided to buy a batch of ISBN numbers with money received and Samson became the proud president of 'Tabby Cat Press'. I republished "The Adventures of Sailor Sam" myself, working with a POD printer. I had to learn a lot of difficult new software and had my book cover rejected 3 times, but it was well worth it when I saw the final product. It looked so much better quality and more professional than the original version. I took the self-publishing route because I wanted total control of how the book looked and especially how the character of Sailor Sam appears. Dorrance Publishing had wanted to publish it (and charge me a huge sum for the privilege which they neglect to mention on their adverts) but do the illustrations themselves which was completely unacceptable to me.

The feedback to the first book was so overwhelming positive and I love that despite having no children myself, I have managed to create a character that children seem to connect with. I spent the wet evenings and weekends of this summer writing and illustrating a second Sailor Sam story, and this time many of the cats living on my street also got in on the act. It was published at the end of October and is again receiving excellent local press. Samson has made a number of public appearances and enjoys the attention. I have put a lot of effort into building my profile on the web and am now receiving modest but steady Amazon sales.

In addition this year, I have signed a contract with Lachesis Publishing for two further picture books featuring a character called 'Rickie the Raccoon'. The first story is already complete and I am working on the second. I also hope next year to publish one or two more of my own stories and I have many ideas for the future. Signed and specially inscribed copies of my books can be ordered directly through www.tabbycatpress.com My Amazon author's profile can be viewed at Amazon
Angel Cater (Illustrating Children's Books Diploma – D6)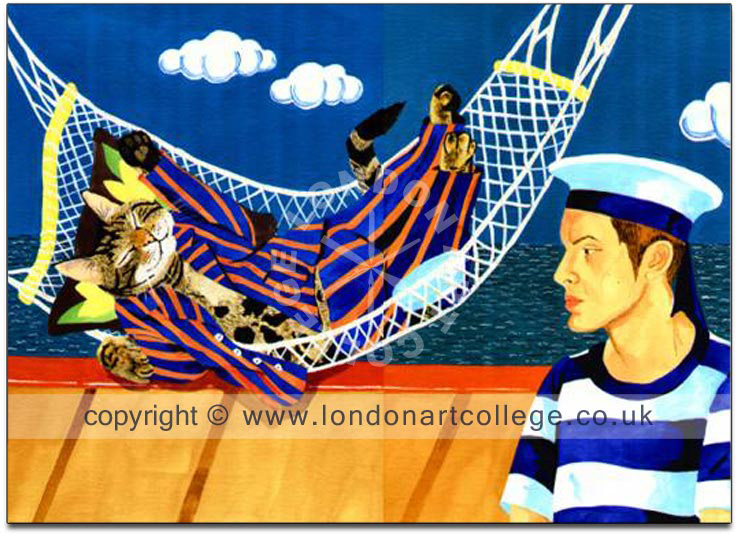 ---
Hi Maggy,
I can say without hesitation that you and the course have helped me no end in my development to become an illustrator. Each brief has pushed me to learn new skills and you have offered your help and guidance with true professionalism, thankyou! Thanks again for your knowledge and insight.
Tim Budgen (Illustrating Children's Books Diploma – D6)
---
Hi London Art College,
I am delighted to have received a distinction for my Watercolour Diploma. I enjoyed the course and the challenge of painting subjects which I have not attempted before and feel like I have progressed with my technique. I like painting without a preliminary sketch as I find it more exciting in creating an interpretation of the subject in a loose style. I grew up in Africa so am passionate about animals and vibrant colours so hope to convey that in painting in the magical medium of watercolour. My tutor, Jan Nesbitt, was wonderful, thank you Jan for your words of encouragement. I feel like I am just beginning an exciting journey.
Lindy Cullen (Watercolour Diploma D8)
---
London Art College,
Firstly, I did indeed find working through the course interesting, stimulating and enjoyable. I found the course content a good introduction to the subject with the techniques taught being well explained. My tutor has been most encouraging throughout. The content of her critiques and responses to letters has been easily understood and very helpful, and Lynette has always responded to correspondence well within the twenty eight days students are told to allow for return of work. Any contact with the college has been dealt with in a helpful and efficient manner. I have not uploaded work to the college website or used the forum (me being a bit of a ludite!) but I do enjoy looking at the website, particularly college news and the student galleries. It was good to see the entries to the Student of the Year Competition on the news section. To summarise, my experience as a student with London Art College has been excellent to date and I would recommended studying with the college to others.
Theresa (Botanical Painting – D9)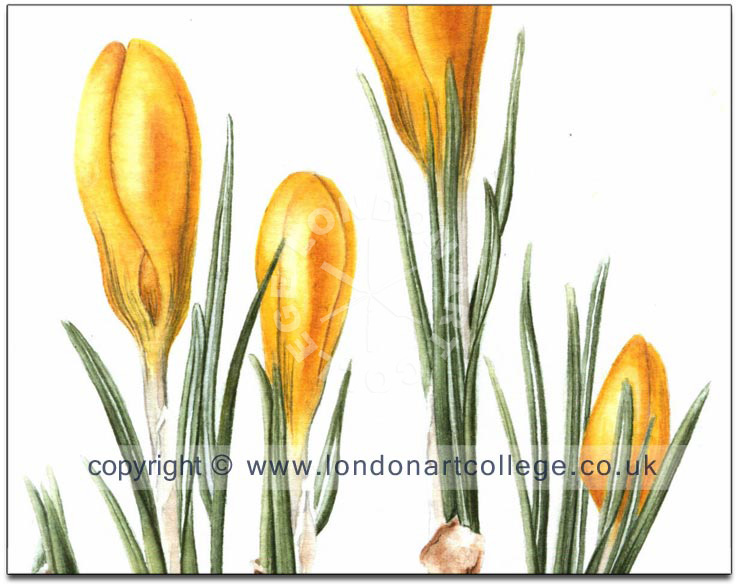 ---
Dear Alan
Thank you for the crit, I love the way you are so positive and I appreciate your response. My husband listened to your tape with me and we both think you are an exceptionally perceptive person. It is great for me to have this course, it's a point of focus and a way of expressing myself. If you would like, the next time I could send you 2 or 3 pieces from the course that I have revisited. I think you would be amazed at the change. To me it illustrates just how the crit has been essential in my development. You know, anyone could follow a book or a list of instructions but it is your input that has been so valuable to me.. The course is very comprehensive, it would give any person a great starting block and confidence to keep painting. I feel as if I know what I'm doing and it has sparked off all sorts of exciting ideas.
Karen Murphy (Drawing and Painting Diploma – D1)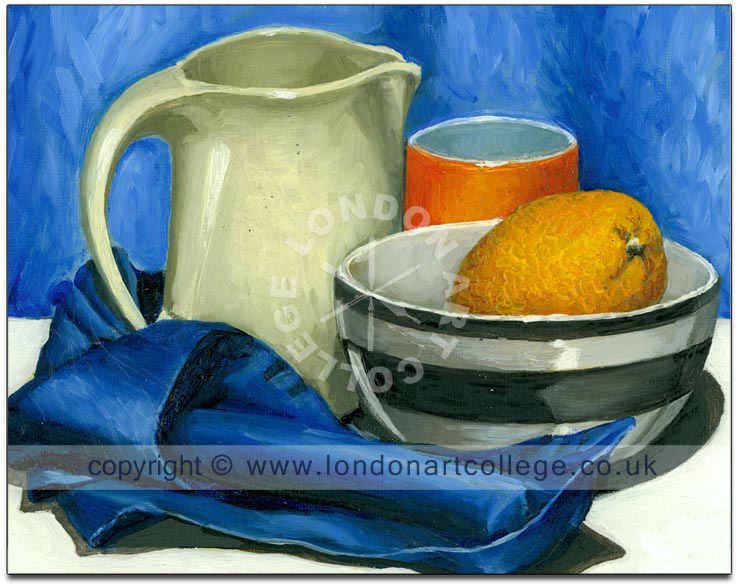 ---
Hi Maggy,
My life changed thanks to Maggy and the London Art College. I received various commissions and I have also been accepted by a Publishing House, Maskew Miller Longman, which is based in Cape Town, South Africa. I'm also doing covers for a South African company, Better Than Paper, that specialize in E-books. I'm very sad to hand in my last Exercise and Brief, it was so incredible fun to study at London Art College and it really changed my life, thank you so much Maggy, it means a lot to me. I've done the brief in Corel Painter, I got a lot to learn but so far I'm very pleased with the outcome of it. Kind regards
KARIEN Naude (Illustrating Children's Books Diploma – D6)
---
To Melanie, Alan and the College,
I dedicate this to my mum Anita and my dad Anthony Valente, and Melanie Phillips my art tutor. My name is Anna Maria Valente, my parents encouraged me to paint, mum was my teacher, stop she would say, too dark, and its quite nice, she smiled when it was really okay. My father took me to my classes to Irene Ann who was my first art teacher at the Barnton Art Studio when I was 18 and she use to let me use the framing machine. I now enjoy attending my local art club. Melanie suggested the horse to be shown here, I did it with medium of Acrylic and watercolour and Gouache to highlight it. I have just started to paint animals I love doing birds and flowers, I love watercolours and i like doing pastels. I am proud of getting my Diploma of Painting and Drawing with Merit too, thanks to Mrs Hill who was very patient with me. I did all this when mum was in the nursing home, I had an exhibition there also. I looked up to Prince Charles when I was younger, and liked his art work, when I saw them. So many thanks to all and my tutor Melanie and Mrs Hill and all of my friends that have helped to sell some of my paintings for cancer, and gave me the chance in my church with great support. Kind Regards to all.
Anna Maria Valente (Pet Portraits Diploma - D5 / Drawing and Painting Diploma – D1)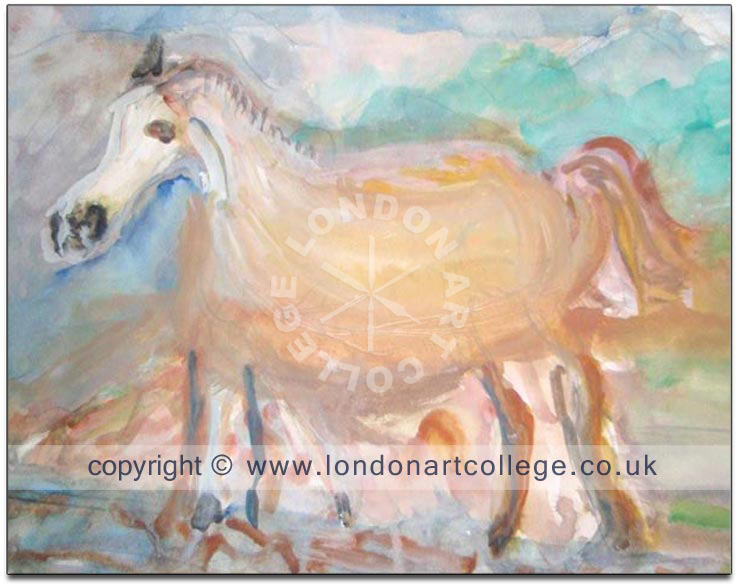 ---
We are delighted to hear from Chaitra Channappa, who has received her certificate for successfully completing the Drawing and Painting Diploma Course. Chaitra has told us that she has been exhibiting her paintings at an art exhibition organized by MK Arts for health in Milton Keynes hospital. She has also started working with the same organization voluntarily. She is preparing herself towards her dream of opening her own institute of Art (teaching) and Gallery alongside working with children with special needs. The photos are of the launch party and the paintings she has exhibited.
"...I would also like to take this opportunity to thank my Tutor, the Principal and everyone at the college for the coaching and all support and guidance. I have recommended the course to many of my friends and acquaintances..."
Chaitra Channappa (Drawing and Painting Diploma – D1)
---
Dear Mr. Dedman,
Deciding to take this course was one of the best decisions I have ever made. LAC stepped in at the right place and the right time for me. To have a long distance art course available that was no only affordable but practical was such a perfect fit.
This course has not only allowed me to dip into new mediums that I am still joyfully experimenting in, but it has helped me to focus and to truly observe the things around me. Your critiques have been invaluable in helping me to objectively critique my art and others and to really pay more attention to my work. I now realize that I will never be a 'good enough artist' but that I can go on improving and learning as long as I can and that is no longer a thought that intimidates me, it excites me!
I truly wish to thank you and LAC for your guidance, patience, knowledge, skill and for making yourself available to students like me. I am thrilled to be a part of the beauty and discovery of art and it has been affirmed to me through this course that I would someday like to support myself with my work.
Thank you again, Sincerely - your student
Allison Tebo (Drawing and Painting Diploma – D1)
---
Hi Melanie,
I just wanted to thank-you for the final critique and all the help you've giving me through the pet portrait course. You've really been wonderful, and I really can't thank-you enough for answering all my questions, and critiquing my work. Thanks.
Susan (Pet Portraits Diploma - D5)
---
Dear London Art College,
I completed a Graphic Design degree in 2000, but after university I began working for a charity, and have worked in similar jobs ever since. I missed having a creative outlet and it was while I was searching for something to do in my spare time that I stumbled upon the London Art College website. The Children's Illustration diploma caught my eye so I enrolled... and I'm so glad I did! It's been informative, enjoyable and rewarding - and Jan, my tutor, has been so encouraging. I was really chuffed to receive my certificate in the post this morning, and to find that I had passed with distinction. I am determined, now, to pursue my dream of illustrating for children and I'm looking forward to starting the extension course. If you're considering the Children's Illustration diploma, I would thoroughly recommend it!...." (Illustrating Children's Books Diploma – D6)
---
To Alan Dedman,
This is just a few lines to thank you for the Landscape painting course, I found it extremely tremendous in helping me improve my skills. The course tutor Alan Dedman was fantastic in commenting on my paintings and telling me how i could improve my painting.To get a certificate in the post was absolutely tremendous and unexpected. I have no intention of stopping painting now even if i am 74 years old. Thank you once again.
David Parkes (Landscape Painting Diploma - D7)
---
Jean Harlow emailed the college to let us know ohow she was getting on after completing the pet portraits diploma. I hope you find Jean's story inspiring, don't forget to visit her website here - http://www.jeanharlowartist.blogspot.com
I began the Pet Portrait Diploma course whilst working overseas in Brunei and then Turkey which allowed me to illustrate pictures of wild animals as well as pet portraits. I enjoy using pencil, coloured pencil and watercolours and my course work was made into a portfolio which was submitted in 2008 to Hull University to enable me to gain entry onto a BA (Hons) Fine Arts degree as a mature student, which I am enjoying immensely.
Last spring I entered and got nominated for the Wildlife artist of the year 2010 and had two pieces shown in the Mall galleries London where I met David Shepherd. I am nearing completion of my degree in fine art and busy getting ready to open a studio in Dalby Forest with a focus on natural history, scientific and philosophical art.
I also also taught a short adult education course on animal drawing and hope to do more of that in future. If you would like to see some of my work you can visit my website - http://www.jeanharlowartist.blogspot.com
Jean Harlow (Pet Portraits Diploma - D5)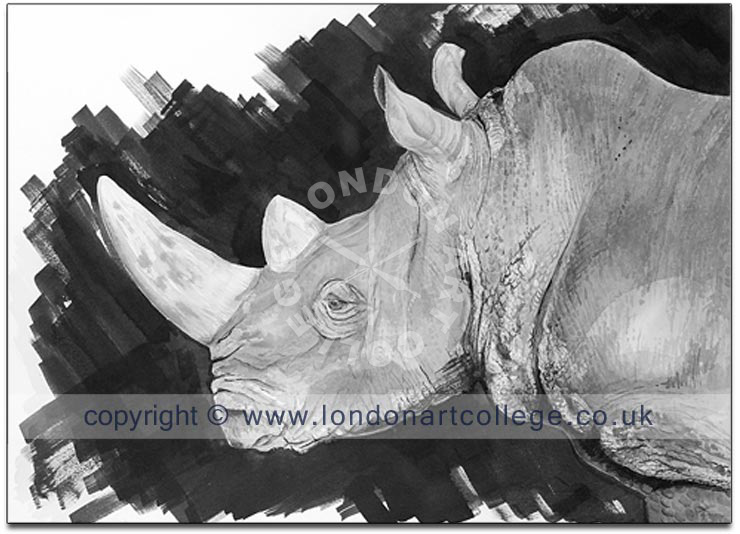 ---