Online Art Course Testimonials and Letters
This section is dedicated to students who have very kindly written testimonials about the college, their course, their tutor and we are proud to present them here along with a sample of the students work. If you are a happy student and would like to send us a similar testimonial, please don't hesitate to contact us at any time.
---
Hi Melanie and The London Art College,
I just finished my Pet Portrait course and enjoyed every part of it. It really has helped to develop the skills I needed to take my animal paintings up to the next level. I am already receiving some commissions which are generated by posters, business cards leading to my website and word of mouth. The most rewarding thing has been that it has made people smile and even brought a little tear to someone's eye when they saw their beloved pet in a painting.

We always strive to get the 'wow factor' and when I achieved that it was the biggest enjoyment of making someone happy. Two of my horse paintings were accepted into the Royal Easter Show in Sydney and on top of this they both sold! This has given me the encouragement to do more. I hope to work towards an exhibition of paintings of horses in the landscape and have approached two galleries and both were interested. So now all there is left to do is lots and lots of painting. Thanks Melanie Phillips for the great course and wonderful support you have given me as well as the London Art College for providing the opportunity to further develop my painting skills.
Gabrielle Marlow (Pet Portraits Diploma - D5)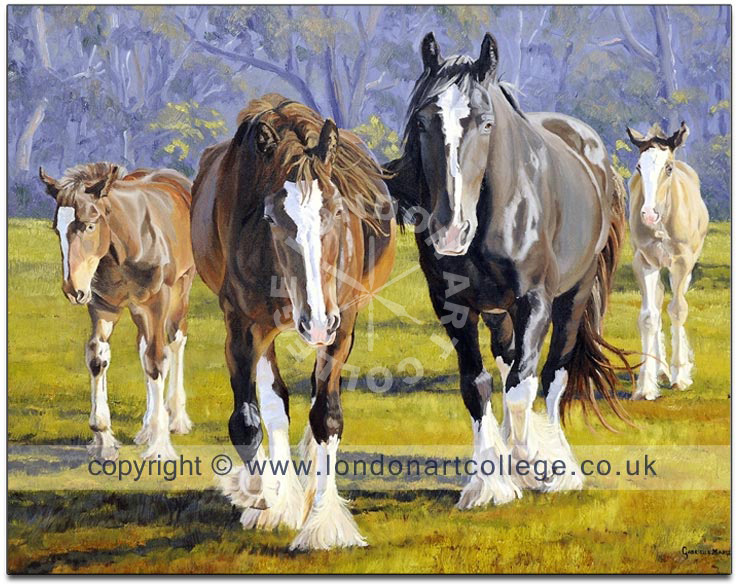 ---
Dear London Art College,
Now that I have completed my Graphic Design Diploma I need to extend my heartfelt thanks to you for providing such a great learning opportunity for all art enthusiasts and professionals alike, especially for those like me who live in places where such opportunities are not available at all. i must say that this was a wonderful experience, and it really enriched me artistically and spiritually. So thank you for that.
And dear Vanessa,
You were the most amazing tutor that I ever had the chance to know in my life. You have earnestly worked with me all through the course to make sure that I perceive every aspect of this field of art, as it was all totally new to me. I wholeheartedly appreciate your constant guiding and encouraging. Thank you for everything you have done for me.
Best regards,
Nahrain Nahrain (Graphic Design D3)
---
Hi Maggy,
I just wanted to email you to say a very big thank you, this has been a wonderful course and I have received great constructive feedback from you. I was looking for a little more confidence with my art and I have found it. I am going to think about doing the follow-on course... in the mean time I am going to be doing lots more painting and put some ideas together.
Thank you so much for a lovely course!
Many thanks
Heidi Hauser (Illustrating Children's Books Diploma D6)
---
Dear Vanessa,
Just writing to say a big thank you for all your help and advice in helping me achieve my diploma for the Graphic Design course. I really enjoyed doing the course and I have learnt a lot and achieving the diploma has given me the confidence to continue my interest in art and graphic design. It has made me understand that art is not just about drawing and painting what you see but that a lot of the time you have to think outside of the box and that you must research and source ideas and experiment. I really enjoyed the illustrator assignment where I had to draw or represent items in different mediums and styles. It was also great to see some of my work on your website.
Thank you all! Kind Regards
Shirley Carter (Graphic Design Art Diploma Course D3)
---
Dear London Art College,
I would like to express my thanks and appreciation, particularly to Maja,for her help and encouragement given during my Painting and Drawing Course .Having always been interested in art it is because of you that I now have a renewed and strengthened desire to do more. Receiving my diploma is the icing on the cake ! (and it gives me a sense of achievement and pleasure each time I look at it) so thankyou again.
Ann Davies (Drawing and Painting Diploma – D1)
---
Andrea Tostes completed her first set of work for the pet portraits diploma and wrote us this wonderful piece about her very special art work shown below and how she is enjoying the pet portraits course.
I work as a graphic designer for more than 20 years. When I was a child, I used to draw all the time, because my father, despite of being a doctor, is a great artist. After 12, I don't remember drawing any more. Last October I went to Rome to visit my aunt and, as I was going to spend more than a month, I searched a drawing class. After 5 lessons, the teacher encouraged me to start oil painting. As I'm asthmatic, I never thought I could ever use oil tints! But she showed me Artisan, from Winsor & Newton – the odourless tints, mixable with water. I remember that my hands were trembling as I painted the first picture with the teacher's tints. I came back to Brazil – where I belong – and decided that I would give a chance to art. As I LOVE animals and nature, I found Melanie and her incredible pet portraits on web.
Two weeks ago, I went to visit my parents and couldn't come back because of a terrible storm. As I had spare time, I decided to start the first set of Melanie's graphite exercises there. I didn't have proper paper at that moment, so I remembered that I had read this on Melanie's proposition: "Make your drawing unique." So, I asked my mother if she had some recipe book from my Grandma. I chose 2 pages (approx A5 size each): one with a biscuit recipe and other with the word "Tortas", wich means "Pies". Then, I choose 3 small kitchenware: glass jar – that my mother filled with milk – , a bowl with 3 eggs and a whisk. I put all of them on a table with a sheet of paper as background and started trying to create a shadow with a strong light source. I had lot of difficult to reproduce the scene – because I'm not used to draw – and was not sure if Melanie would accept it, as I used that odd paper…..It was delicious to draw while my parents were watching TV. It seemed old times…. I forgot for some hours That I have a husband and kids…..Suddenly I was a child again…..
My Grandmother died some years ago. She was a strong character lady that loved to cook and left her recipes, which are prepared now as a way of not forgetting her. Nowadays I can tell that I admire her. But when I was a teenager, we used to discuss sometimes. As she was born, her mother died and because of that, she was raised up from her grandparents. Life was not easy for her till she met my Grandfather. I think that this contributed for her difficult personality. She is always with me, as I carry her golden medal on a necklace all the time. Art. I don't know where it will take me, but this road brought magic back to my life!
Andrea Tostes (Pet Portraits Diploma - D5)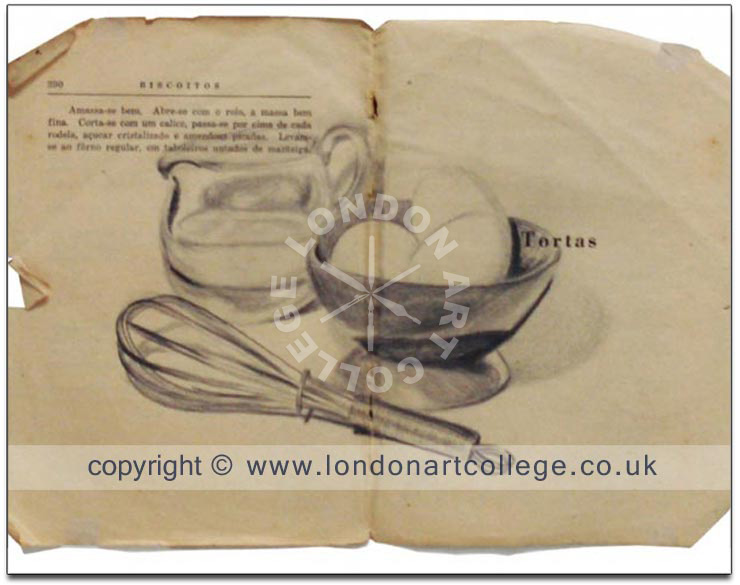 ---
Hello Alan,
I want give you my feedback about the Learn to draw course that I'm doing: IT'S FANTASTIC, INCREDIBLE, GREAT! Thank you very much for all your support, when I'll finish this course I'll buy another one and I wish to have again a great tutor like Alan Dedman, he has make the critiques of my draw and I like his method, he's a very incredible teacher with a great passion for his work, I just only tell you that I'm very happy to working with him and with all you too.
Thank you very very much!
Sara Wendy Oliva (Beginners Drawing – B1)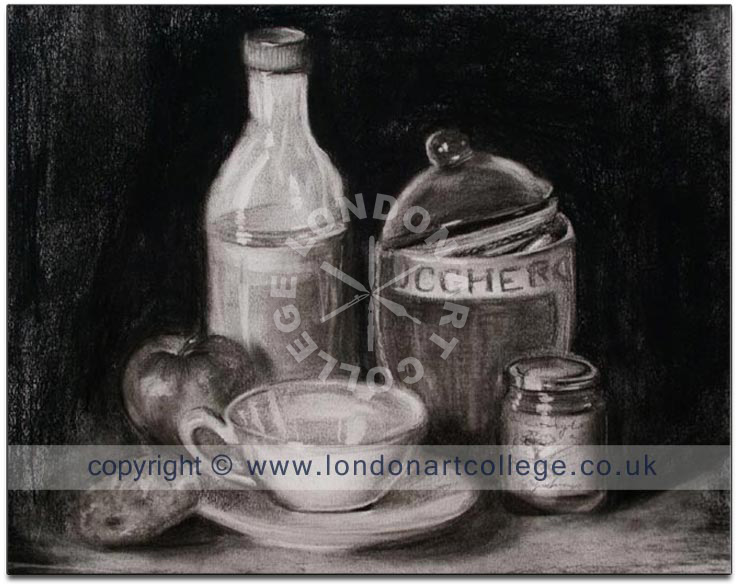 ---
Dear Alan,
Thank you for your comments we (two other ladies from our art class and myself) all agree with you and we will be endeavouring to produce more. Your comment on sending only one picture was right. I did do more but did not submit them due to my previous experience with another Distance Learning college. On their watercolour course I had to adhere to exactly what was in the syllabus i.e. send only one picture. On one exercise I did extra work, but only got comments about one picture, the others being kept and ignored. Not a good experience. In contrast your course is a delight.
Thank you. June Hesketh (Drawing and Painting Diploma – D1)
---
Dear London Art College,
Before beginning the Illustrating Children's Books course, I didn't have any formal training or qualifications in art or design. I needed a purpose and direction for my aimless doodles, and a genuine reason for getting marker pen stains on the sofa and paint spots on the conservatory floor to tell my girlfriend. My course tutor has given me the confidence, guidance and focus to enable me to experiment with new mediums. Each assignment has offered new challenges and I have found this very rewarding. The skills developed on this course have inspired me to begin work on my own children's book.
(Illustrating Children's Books Diploma – D6)
---
Dear London Art College,,
I've just successfully completed the pet portrait course and was thrilled to obtain a distinction. My tutor ,Melanie Phillips, was extremely helpful and constructive in her comments and advice,and I feel I've learned so much. The course has fitted in so well with my work and other committments and is the only way I could have studied the subject. My only regret is that I've now finished-I want some more exercises to complete! I'm also really excited that two of my paintings have been put on your website-that's a real honour for me. Thanks so much Melanie for all your help and support..."
Gill Baker (Pet Portraits Diploma - D5)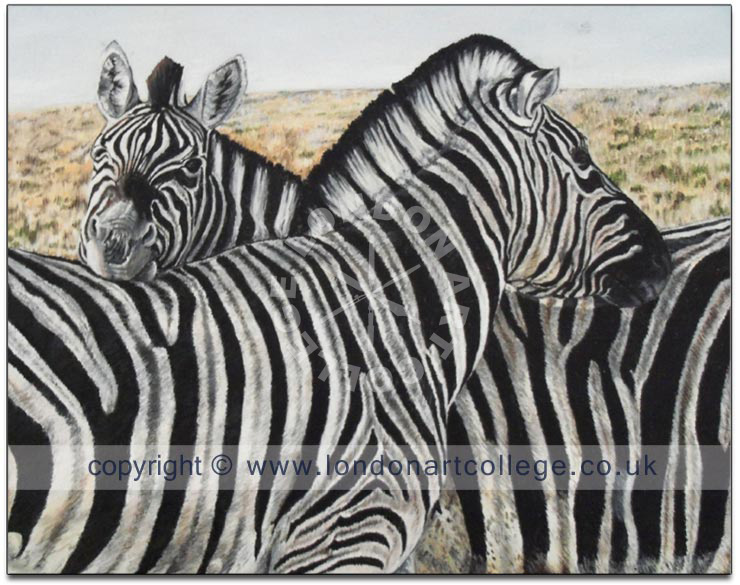 ---
Hi Melanie,
I was absolutely thrilled yesterday when I received my pet portraiture diploma saying that I had passed the course with distinction. I really can't thank you enough for the excellent tuition you gave me whilst I was completing the course, your help and support was invaluble. I really have enjoyed the course and would thoroughly recommend it to anyone looking for online distance learning. I will definately enroll on another course with the LAC in the near future. best wishes
Teresa xx (Pet Portraits Diploma - D5)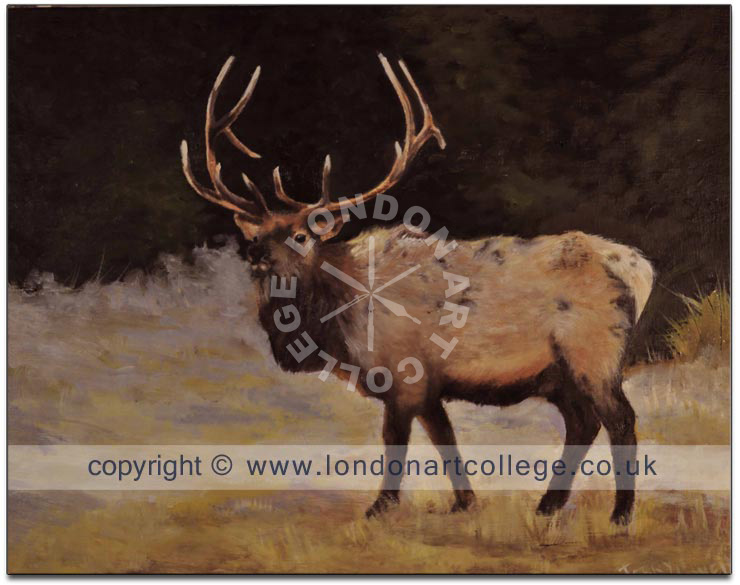 ---
Dear Julie,
A heartfelt thank you for your happy and encouraging news, I never imagined my final efforts would have resulted in the ultimate reward a student could hope for. I shall certainly continue with coloured pencil and follow up your advice. Many thanks agin for this rewarding course and your help and encouragement.
Marianne Leipman-Schiller (Coloured Pencil Course)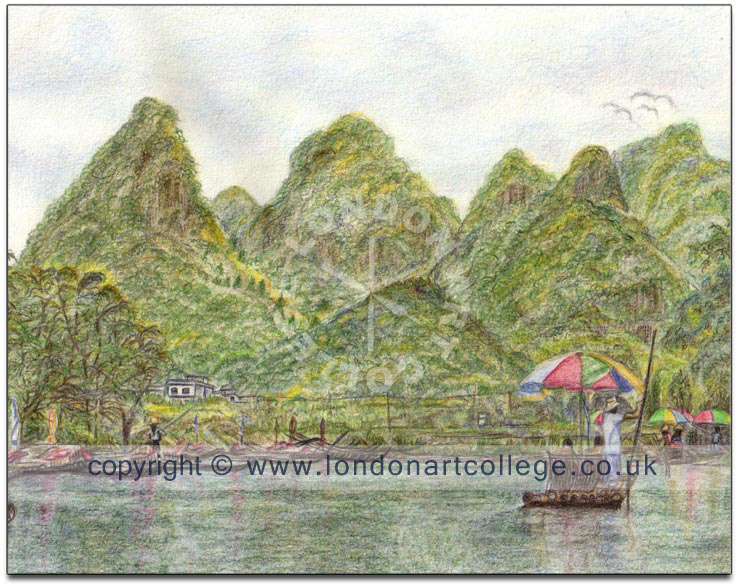 ---
Dear London Art College,
I would to submit the following testimonial for the Childrens Illustration Diploma Course: I was delighted to receive a distinction for my work on the Childrens Illustration course. A huge thank you to Maggy for her guidance and constructive advice throughout the course. I thoroughly enjoyed all of the assignments and felt that I had really moved forward. This is a really good course and I would recommend it.
Sylvia Hopes (Illustrating Children's Books Diploma – D6)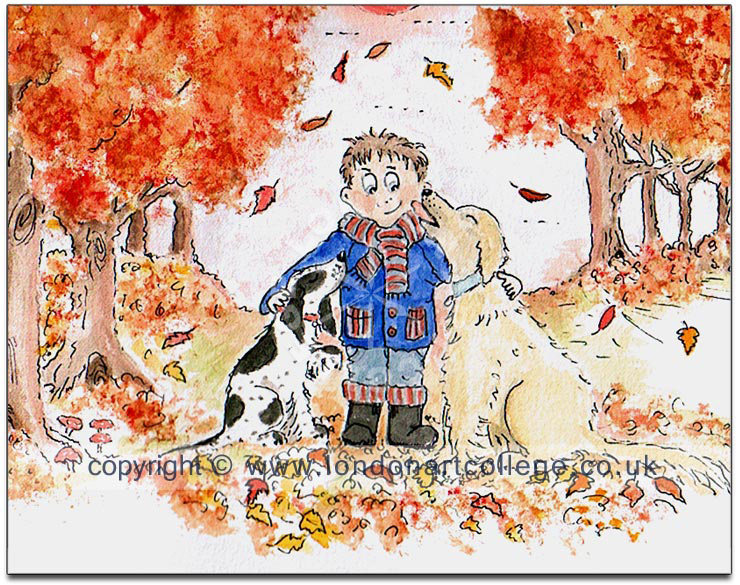 ---
Dear Linda,
You are very gifted teacher and I feel the course had been well worth it.
Yours Elizabeth (Portraits Certificate – C7)
---
Dear London Art College,
Im a little sad that the course has come to an end. I have enjoyed the project thoroughly. I'm going to be illustrating my own children's books next and try to market them, or donate them to needy schools. Its a hobby that id like to keep alive. Thanks for your patients and kind words, it gives me more confidence."
Carla (Illustrating Children's Books Diploma – D6)
---
Ruth Mann emailed the college to let us know her story about completing the pet portraits diploma. I hope you find Ruth's story inspiring, don't forget to visit her website here - ruthmannpastelart.com
I re-discovered art late in 2007 after taking voluntary early retirement. I soon got the bug and realised that I liked drawing animals, practicing on mine and my family's dogs. Then I found the London Art College and saw that there was a Pet Portrait diploma so decided to take it. It took me over a year to complete and I was over the moon to receive a distinction. I have learned so much in that time and now am quite confident in portraying a wide variety of animals. My favourite medium by a long way is soft pastels and I was leaning this way before starting the course. However, the course encourages students to use different media too, graphite, coloured pencil, acrylics and oils and it was very good for me to try these out. Although I love graphite and pastels I now have small sets of the others and am trying to improve my skills with them too.
I am also trying out different subjects....people portraits, landscape, flowers and even still life. I am trying to develop my own style and have started doing regular sketches, mainly in pastel, which has really helped my freehand drawing skills. The more I learn though the more I realise how much I still don't know! Nevertheless I am hoping to start exhibiting and maybe selling some of my work soon. I find it a very exciting journey and though I sometimes feel discouraged when something doesn't turn out right I try to use this in a positive way to help me continue to improve. I have also learned not to compare my work unfavourably with that of others. All art is individual. We can learn by observing and even copying other people's work but ultimately our art is our own unique take on a subject..."
Ruth Mann (Pet Portraits Diploma - D5)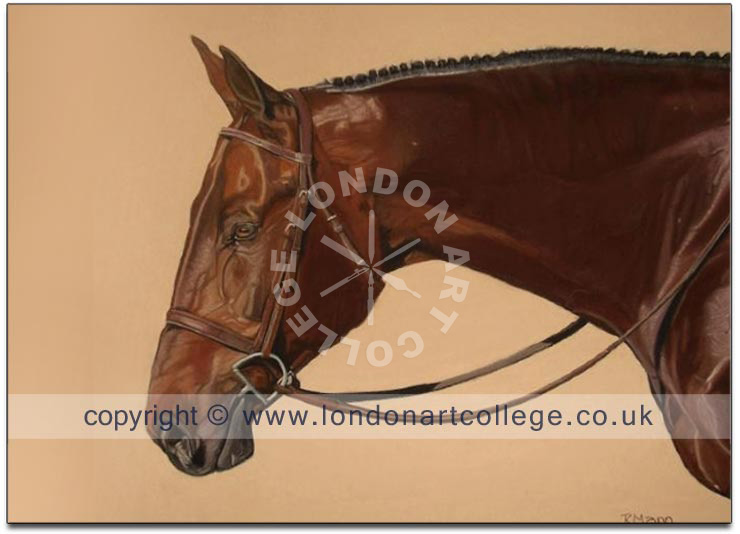 ---
Graldine Boley emailed the college to let us know her story behind completing the pet portraits diploma. I hope you find Geraldine's story inspiring, don't forget to visit her website here - geraldineboley.com

I have always loved drawing, but it took a back seat whilst bringing up my family, although I always managed some form of craftwork, including knitting, both by hand and machine, dough craft and needlework, I never quite had the time or inclination to get back to my real love of 2d art. Looking after three children and working seemed to be about as much as I could manage most of the time.
Then it all came crashing down, in 2002 I was diagnosed with cancer and after (successful) treatment and recuperation I no longer had a job to go back to, and as I was in my forties with little in the way of qualifications and not a great health record struggled to find employment. I completed an IT course at a local college thinking it would give me a better chance of work, although I had several interviews I never got the job!
So now finding I had time on my hands I started to sketch again, the cat, the dog, humans, even a chair or a table. I regained my long forgotten passion for art, and began looking at art and artists on the internet, stumbling across the LAC site I was immediately attracted to the Pet Portrait course, we always had cats and dogs as well as various rodents as pets and I love animals and nature in any form, so decided to give it a go.
Little did I know it but this was to be a huge turning point in my life, inspired and enthused by Melanie and the forum, I made friends along the way, I struggled to keep up with the time schedule (that I had set myself) and it was often a case of one step forward and two back, I am sure every one on the forum at that time can remember my Scooby doo post, about a German Shepherd commission that I just could not get to grips with, but with the humour and encouragement on site I did it. I never quite got the hang of coloured pencils, or paint, but then I discovered pastels a medium that I could draw with in a painterly way, I was hooked.
I passed my Diploma and after a break of a few months decided I wanted more and enrolled in an Art and Design Diploma course at a college within reasonable distance. I did this for two years part time and achieved a pass with a Distinction in June 2009. This enabled me to carry on into Higher education and I am now half way through a Foundation Degree in Applied Art and Design.
Alongside this I have managed a steady trickle of commission work, a large commission in coloured pencil for a local wildlife rescue centre and have recently exhibited some of my work with a local artists group in two local Exhibitions. I am starting to paint in all wet mediums, and short term I am planning on more experimentation, with textiles, collage, mixed media and anything else that inspires me, I am looking forward to getting my Degree and Exhibiting in the end of year show, long term who knows?
I enjoy the commission work, and I have lots of ideas for new work and other directions within the field of art, so I am still at the beginning of what I hope will be a long enjoyable journey and would like to say a big thank you to Melanie and friends on P.P.C. forums for the inspiration and support I have had and continue to receive.
Geraldine (Pet Portraits Diploma - D5)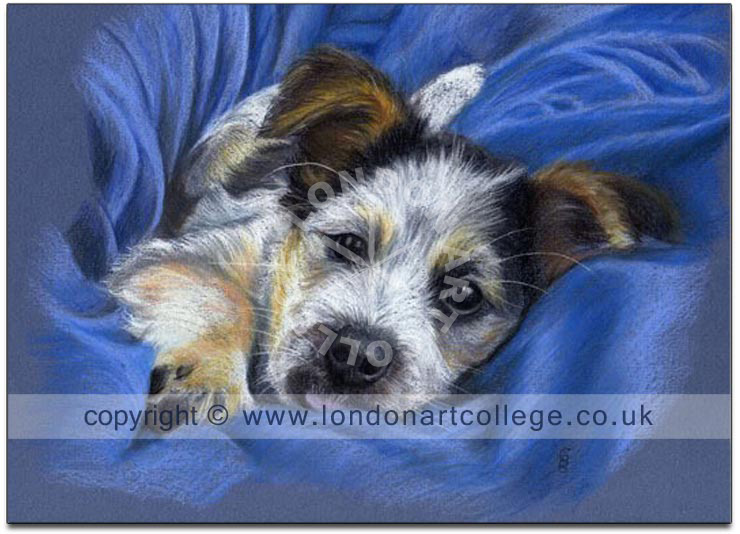 ---